Successful consortium project releases AI platform for drug discovery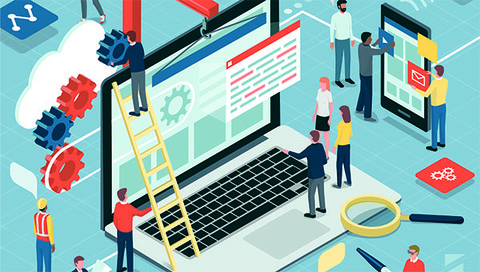 Once again demonstrating that the power of collaboration presents the best foundation for real progress in the development and adoption of future forward technologies, key players in the drug discovery industry have worked together and successfully launched a new AI platform. The new system will add significant value to drug discovery data which will present improvements in drug development and ultimately benefit patient outcomes.
The consortium behind the DeepADMET project set up to advance artificial intelligence (AI) technologies for drug discovery, today announced the successful conclusion of this project which was funded by Innovate UK, the UK's innovation agency.
Optibrium Limited - a developer of software for drug discovery, Intellegens Limited - an AI company, and Medicines Discovery Catapult (MDC) - the UK's catapult centre for medicine research and innovation, partnered to harness the power of AI for drug discovery and develop a next-generation software platform supporting the design of new drug candidates. In collaboration with global pharma and biotech companies, the consortium demonstrated the ability of its new AI platform, Cerella™, to identify compounds with improved 'on target' properties more efficiently and was proven to reduce costs and shorten discovery cycle times.
Deep learning alogorithm extracts added value from drug discovery data
The successful project culminated in the release of Cerella, which leverages Intellegens' unique Alchemite™ deep learning algorithm [1], custom-tailored by the joint research team to the specificities of drug discovery data. The platform complements current drug discovery processes, improving efficiency and productivity by extracting additional value from drug discovery data to make more accurate predictions of compounds' activity and absorption, distribution, metabolism, excretion and toxicity (ADMET) properties. Based on these predictions, it prioritises experimental efforts and increases confidence in decisions [2,3].
Cerella combines on-premises deployment with cloud computing, providing both data security and scalability, and by connecting directly with a corporate data repository, it automatically updates predictions using the latest data.
A rewarding venture applying diverse expertise
"The digital and AI revolution will lead to faster and smarter ways of discovering and developing safe and effective drugs. Applying the diverse expertise within the DeepADMET project consortium, unique solutions to the predictive modelling of drug candidates have been delivered through the Cerella platform. Advancements in this exciting area of innovation will ultimately deliver better-targeted medicines with an optimised safety profile more quickly to the patient," commented Karen Spink, Innovation Lead- Precision Medicine at Innovate UK.
"The power that comes from discovering and preparing the data needed for medicines research cannot be overstated. This project is unequivocal in its demonstration of how quality data can refine, direct and expedite drug discovery, resulting in faster and flexible routes to the clinic while minimising overall project costs," said John P. Overington, Chief Informatics Officer at Medicines Discovery Catapult. "It has been an extremely rewarding venture working with Optibrium and Intellegens during this project; a collaboration which will enable a more streamlined and efficient approach to drug discovery and be able to see future applications in other key business areas."
REferencee
[1] T. Whitehead, B. Irwin, P. S. M. Hunt and G. Conduit, "Imputation of Assay Bioactivity Data Using Deep Learning," J. Chem. Inf. Model. (2019) 59(3), pp. 1197-1204.
[2] B. Irwin, et al., "Practical Applications of Deep Learning to Impute Heterogeneous Drug Discovery Data," J. Chem. Inf. Model. (2020) 60(6), pp. 2848-2857.
[3] Irwin et al. "Guiding Drug Optimisation Using Deep Learning Imputation and Compound Generation" International Pharmaceutical Industry (2020) 12(2), pp. 28-31