Science in space: laboratory microbiologist turned astronaut
For nearly 20 years, astronauts have continuously lived and worked on the International Space Station (ISS), testing technologies, performing science and developing the skills needed to explore farther from Earth. Now, microbiologist turned astronaut, Kate Rubins is in training for a six-month mission to the space station as a flight engineer for the Expedition 63/64 crew, which launched in October 2020.
Image: NASA Astronaut Kate Rubins sequenced DNA in space for the first time ever for the Biomolecule Sequencer investigation, using the MinION sequencing device. Credits: NASA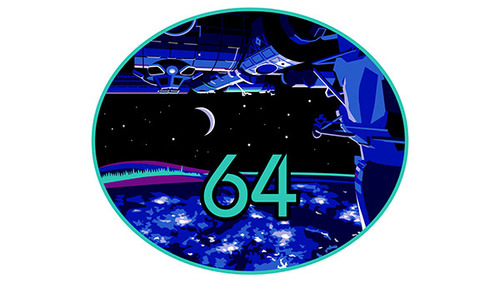 Initially selected by NASA in 2009, Rubins already has 115 days experience in space and has conducted two spacewalks during a 2016 mission, when she became the first person to sequence DNA in space.
With a Bachelor of Science in Molecular Biology and a PhD in Cancer Biology, Rubins began her career in a molecular biology lab.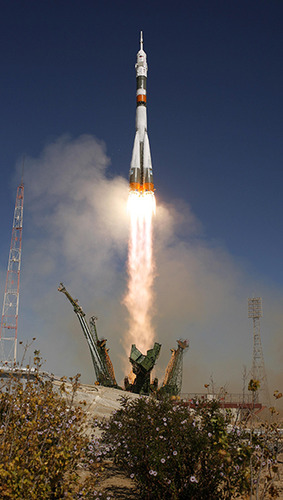 Image right: The Soyuz Spacecraft lifts off on its way to the International Space Station. Credits: NASA/Bill Ingalls
"I was focussing on virus immune interaction, and I was a fellow at the Whitehead Institute. I was pretty intent on running a lab and being a faculty member for the rest of my life. But I had wanted to be an astronaut as a kid, and it was actually one of my co-Principle Investigator on a grant who noticed astronaut applications online and suggested I apply. So, I applied and, she was kind of mad afterwards because we couldn't collaborate on the grant anymore because I had to give that up to work at NASA! She is still a very dear friend to this day." said Rubins during a recent interview with our own podcast broadcaster, Phil Prime.
Rubins, along with cosmonauts Sergey Ryzhikov and Sergey Kud-Sverchkov of the Russian space agency Roscosmos, were scheduled to launch Oct. 14 on the Soyuz MS-17 spacecraft from the Baikonur Cosmodrome in Kazakhstan. Space flight and experimentation is a very international affair.
"From the science and engineering perspective, we've always worked really closely from the Apollo and Soyuz project on. We also have great international partners - we partner with the ESA, the Japanese Space Agency, the Canadian Space Agency... these are our main partners on the ISS but then countries all over the World send experiments. They don't necessarily have to be a main partner agency to be able to launch an experiment to ISS," said Rubins.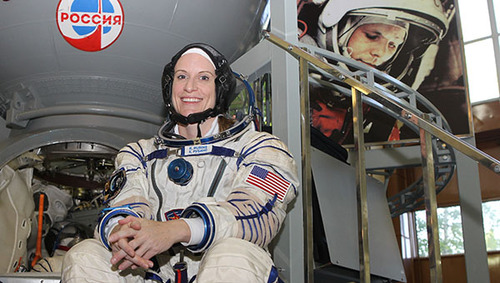 Image: Kate Rubins of NASA poses for pictures May 27 2016 at the Gagarin Cosmonaut Training Center in Star City, Russia before boarding a Soyuz simulator for final qualification exams. Credits: NASA/Stephanie Stoll
While working for NASA, Astronaut Rubins has helped to create therapies for Ebola and Lassa viruses by conducting research collaboratively with the US army. She also aided development of the first smallpox infection model.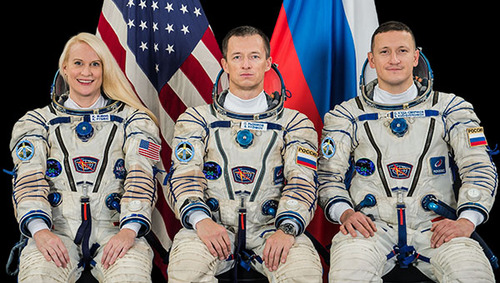 Image: Expedition 64 crew members (from left) NASA astronaut Kate Rubins and cosmonauts Sergey Ryzhikov and Sergey Kud-Sverchkov pose for a crew portrait during crew training at Gagarin Cosmonaut Training Center in Star City, Russia. Credits: NASA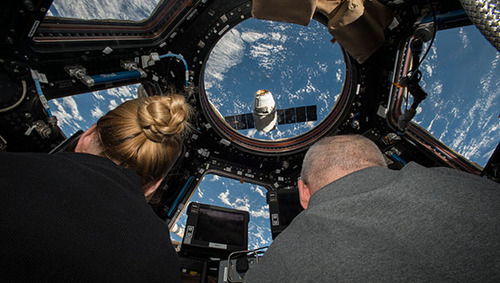 Image: NASA astronauts Kate Rubins (left) and Jeff Williams (right) prepare to grapple the SpaceX Dragon supply spacecraft from aboard the ISS. Credits: NASA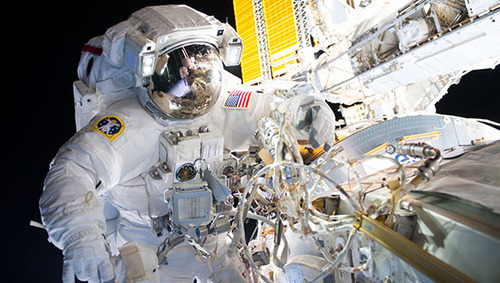 Image: Expedition 48 Commander Jeff Williams (shown here) and Flight Engineer Kate Rubins of NASA successfully installed the first of two international docking adapters (IDAs) during a five hour and 58-minute spacewalk. Credits: NASA
Among some of the hundreds of experiments ongoing during her next mission, Rubins will conduct research using the Cold Atom Lab (CAL) to study the use of laser-cooled atoms for future quantum sensors and will work on a cardiovascular experiment that builds on an investigation she completed during her previous mission.
"This [the CAL study] is an experiment to look at Bose-Einstein Condensates. Essentially what happens on the ground is a very short time of flight. In microgravity, you get a longer time of flight and you can run the instrument for longer. So, you can hugely expand the capabilities of an experiment just by putting it in orbit," explained Rubins.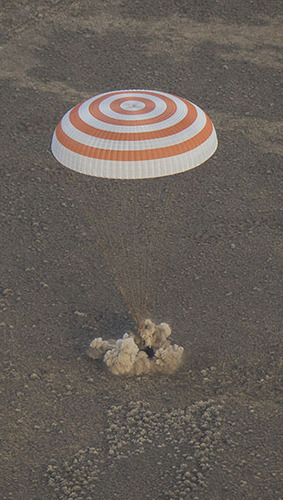 Image right: Rubins and her Expedition 48/49 crew mates touch down near the town of Zhezkazgan, Kazakhstan on 30 October 2016 in the Soyuz MS-01 spacecraft after 115 days onboard the ISS. Credits: NASA
In addition to physiology and gene expression profiles and the effect of microgravity on the long-term health of astronauts, a lot of the cardiomyocyte work carried out during the 2016 mission was proof of principle. Could they get the samples back uncontaminated?
"We hadn't done long duration culture on board the space station. And so we wanted to see how long we could grow these cells, and we wanted to see if we could return samples to Earth for scientists to work on.
"We did manage to send them back to Earth... which is pretty cool. They landed of the coast of California and got driven up to Stanford. imagine getting that in your lab... Here is a plate of cells from space!"
Get your science to space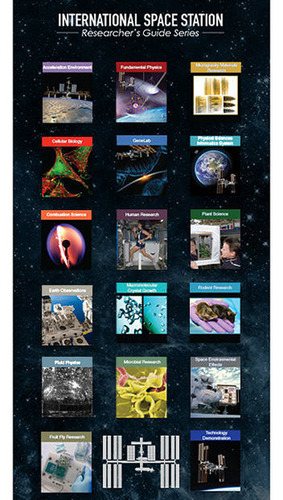 Supporting research across a wide range of science and technology disciplines is an important part of NASA's overall mission. Flying experiments on Station is a unique opportunity to eliminate gravity as a variable, provide exposure to vacuum and radiation, and have a clear view of the Earth and space.
Since opening the ISS for commercial business in 2019, more than 50 companies have conducted commercial research and development on the space station via the ISS US National Laboratory, and their results are yielding great promise.
NASA also is enabling two short-duration private astronaut missions per year, of up to 30 days each, on the ISS. These privately funded, dedicated commercial spaceflights must aim to perform duties that fall into the approved commercial and marketing activities.
Researchers can also help NASA achieve national research objectives by submitting research proposals and conducting awarded research. To search for and view FUTURE, OPEN, CLOSED/PAST NASA research announcements, visit: https://nspires.nasaprs.com/external/
The ISS Program Research Office offers a free-to-download 17-book Researcher's Guide Series by discipline, explaining how ground?based experiments can be translated to the space environment.