Making it happen: young people aren't just the leaders of tomorrow
Freelance nextgen reporter, Amy Grace, interviews Mhairi McCann; one of the Women in Engineering Society 2020 Top 50 winners and a proactive promoter of youth representation in STEM…
"I think young people have huge untapped potential when it comes to scientific research, and that's why we want to provide them with a platform."

Mhairi McCann, YouthSTEM2030
Mhairi McCann is the CEO and founder of YouthSTEM2030. She took a gap year after school but, instead of returning to education, Mhairi decided she'd rather learn by doing. Her first project with YouthSTEM2030, Youth STEM Matters, is a youth-run scientific journal which provides a platform for research conducted independently by young people. YouthSTEM2030 supports the UN Sustainable Development Goals and, while they've not yet received funding from the UN, Mhairi says she's keen to work with them.
"I think young people have huge untapped potential when it comes to scientific research, and that's why we want to provide them with a platform."
YouthSTEM2030 has its sights set on some of the biggest challenges humanity faces. Whether it's tackling environmental issues or eradicating poverty, Mhairi is confident that young people have a vital role to play. Giving an example, Mhairi told me that one of her team members is currently looking into potential cancer treatments from marine environments.
"Young people are doing amazing things in STEM, that have a genuine potential to make a positive difference on the world. That's why I set up YouthSTEM2030 – because I think young people are a huge untapped potential for trying to make a better world."
Organizations have an imperative to take a stand against systemic discrimination, and this is especially true for those providing a gateway to the field. I was keen to learn about YouthSTEM2030's approach to diversity.
"I think that all organisations need to take an intersectional approach to ensuring that there are opportunities there for everyone. It's important that it's not done superficially. There's a lot of efforts to try and make sure STEM is for everyone, especially to get girls into STEM. And that's great, but it then needs to be accompanied by system-level change."
I also asked Mhairi if YouthSTEM2030 was taking any steps to help young people access lab facilities.
"That's definitely on the horizon for us. We only launched four months ago so it's still quite early days, but I think that trying to help more young people get those opportunities is really important. I think a lot of young people don't realise that they can. And certainly, that was my experience until I was about seventeen – I didn't realise that you could do anything other than school. So that's something we would very much like to explore going forward."
Mhairi says she's just getting started with YouthSTEM2030. "We're only at the beginning here – there's plenty more I can add, and that we can do." She also hinted at some exciting opportunities that YouthSTEM2030 has coming up for young people. "And we're always looking for organizations that want to get involved in what we're doing too."
If you're a young person or organization and you want to get involved in #YouthSTEMMatters please visit: https://www.youthstem2030.org/get-involved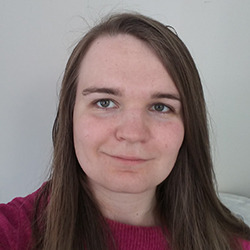 Author: Amy Grace is a graduate communicator with a focus on ethical and inclusive content creation