More gain, less pain with liquid biopsies
Following on from a previous article; Liquid Gold, published on 21 January 2019, Dermot Martin revisits the topic of liquid biopsies in the post pandemic era in the light of problems with cancer diagnostic…
Among many catastrophic effects of the pandemic, the degradation of cancer detection and diagnosis systems is one of the most worrying. Since COVID-19 took hold, laboratory and NHS hospital resources have been diverted away from investigations of cancer and other chronic illnesses such as diabetes. The distress this is causing to patients, who must wait longer for testing, is immense.
Tissue testing methods are vital to understand the nature of tumours but with laboratory technicians and equipment under intense pressure fighting the virus, a significant proportion of that work is on hold.
Cancers will go undetected as the NHS battles to return to a semblance of normality. Already some estimates say 5,000 extra deaths may have occurred by delayed cancer therapy. It is a ticking time bomb for the NHS.
Lubricating cancer diagnostics
Liquid biopsies will not defuse this problem totally but will lubricate the cancer diagnostics process by reducing demands on the health service resources.
We are all familiar with standard blood or urine tests for knowledge of metabolism, but liquid biopsies can be a powerful source of information about tumours. The analysis of blood or serum samples to track and trace DNA and cancer cells circulating in blood and other body fluids can be a life saver.
Patient sampling is easy but the technology for detection of rogue cells and mutated DNA has become more sophisticated over the last 15 years.
In marketing-speak, liquid biopsies have a 'unique selling point'. They by-pass the need for invasive, painful and even risky tissue sampling. During a global pandemic this a boon, as a fluid sample can be taken painlessly in seconds with very little risk.
Liquid biopsies can provide a more focussed picture of the tumour landscape compared with single-site tissue sampling, because tumours always shed cells into the bloodstream from both the primary and metastatic sites.
Studies have shown that current techniques used on the liquid biopsy samples can give useful information on certain tumours up to 16 weeks earlier than using traditional CT and PET scans.[1]
Tell-tale DNA in serum
The traditional tissue biopsy has its limitations. A tumour will change over time as it grows, spreads and is exposed to anti-cancer medications. This means tissue biopsies, taken when the disease is first diagnosed may not fully reflect its current state. Liquid biopsy has the potential to deliver data in real time.
Five years before Watson and Crick unravelled the molecular structure of DNA, a research paper on analysis of blood serum was published in Paris. It described the detection of minute traces of DNA, known as cell free nucleic acids, in blood serum of cancer patients. The work by Mandel and Metai (1948), heralded the arrival of the process of liquid biopsy.
In the seventies David Shapiro and others reported finding significantly higher levels of free DNA in patients with certain types of cancer. He concluded that serum DNA might be pivotal in identifying and tracking tumour types. This early research has initiated a global market worth today at least £300billion.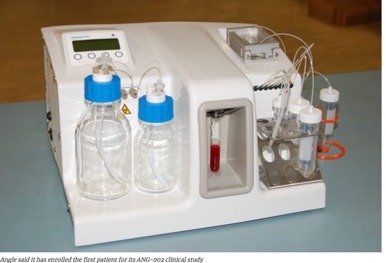 ANGLE in fine shape for LB cancer diagnostics
Detecting cancer cells in blood or serum samples is the biological equivalent of the needle in a haystack. Surrey-based ANGLE plc has built a reputation for systems to separate rare very low concentration cells for cancer diagnostics. The technique hinges on ParsortixT technology.
This is basically a cell capture and harvesting system. At its heart is a cell separation cassette incorporated with an automated system to run samples. The size and compressibility of most tumour cells allow these cells to be separated and singled out for analysis. They may be stained with selected antibodies characterised and counted under a fluorescent microscope. They can also be isolated using a buffer solution cultured for detailed analysis.
Understandably there are extensive intellectual property protection rights around key elements of Angle's system but there are other techniques designed for separating circulating tumour DNA involving magnetic beads and column separation. Angle has 200 of its units operating globally and although it's had to scale back activities during in the pandemic, it is driving forward with plans for regulatory approval in the US.
Andrew Newland Angle CEO said: "We are keeping a laser focus on liquid biopsy and not diverting our resources from our key priorities. The pandemic has exposed weaknesses in the existing standard of cancer care, raised the profile and importance of diagnostic testing and will hopefully help accelerate the adoption of liquid biopsy which can mitigate some of the negative effects. The blood draw can be done away from the main healthcare setting so there is less risk of contracting COVID-19 at the hospital, Mobile phlebotomy units can visit (the patients') home. However, to be used these procedures need regulatory clearance, and we are focussed on obtaining that clearance. Our current top priorities are to get product clearance from US Food and Drug Administration for metastatic breast cancer (MBC) and a laboratory developed test (LDT) application to detect ovarian cancer."
Angle has also enrolled its first patient for clinical study, designed to assess its Parsortix PC1 system in patients with metastatic breast cancer.
The clinical study is intended to support FDA clearance of Parsortix PC1 as an in vitro diagnostic device. It is not approved for in vivo diagnostics. Angle says it wants to become the first company to receive FDA Class II clearance for a test designed to harvest and analyse intact circulating tumour cells (CTCs) from patient blood.
"This would be a key step in establishing Parsortix technology as the system of choice for liquid biopsy securing a leading position in the emerging multi-billion-dollar liquid biopsy market," said Mr Newland.
AI systems a match for Liquid Biopsy
Another development is the application of machine learning to cancer diagnosis in the context of liquid biopsy.
Algorithms have been created to detect minute quantities of tumour DNA in a blood sample have offered positive results in clinical validation studies. However, no self-learning algorithm has so far been formally approved for clinical use. These algorithms have the potential to outperform imaging and tissue biopsies in detecting and monitoring cancers by looking for mutations in DNA, RNA, and proteins directly from liquid biopsies.
In 2018, Dan Landau, a clinical oncologist and researcher at Weill Cornell Medical School in New York City, launched a machine learning method to detect very low-quantity ctDNA, to attempt to monitor cancer treatment in close to real time. The algorithm compares whole-genome sequences from tumour biopsy samples with patterns of mutations in fragments of ctDNA extracted from the blood.
"The dream of liquid biopsy is to detect cancer when there is very little of it, and detect cancers during treatment," says Dr Landau.
Real time data is in the blood
Clinicians normally identify real tumour mutations from sequencing errors by measuring how many of the millions of repeated fragments of DNA contain a given mutation - the more fragments which agree the more evidence that a mutation is present. But with so few fragments of ctDNA to work with normally, Dr Landau's software sets out to identify complex patterns of mutations across the entire sequence to estimate whether a fragment has been sequenced correctly.
The prospect of machine learning in combination with liquid biopsy will again make cancer diagnosis less invasive and less costly than traditional diagnostic methods such as imaging and tissue biopsy.
Gabe Otte, CEO of California based Artificial Intelligence Genomic bio-tech company Freenome told The Scientist magazine recently: "AI genomics cancer screening methods will be cheaper than screening procedures such as mammography or colonoscopy. AI monitoring of liquid biopsy data throughout cancer treatment could also be cheaper. You can't PET-MRI a tumour every week, but you could take a liquid biopsy and run it through a screening system built around AI and sequencing."
As Dr Minetta Liu, an oncologist at the Mayo Clinic in the US, has said: "What is in the blood is what is biologically relevant in understanding tumours. That is what we should be sampling. Repeating tissue biopsies to get updated information about cancer is invasive and associated with potential complications, including pain, infection and bleeding."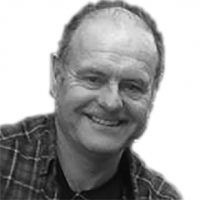 Author: Dermot Martin is a freelance science writer
References:
1: https://www.healio.com/hematology-oncology/learn-genomics/genomic-medicine-in-clinical-practice-era-of-personalized-medicine/liquid-biopsies
https://angleplc.com/parsortix-technology/how-it-works/?gclid=EAIaIQobChMIjPnG7oCL6gIViKztCh15ewtGEAAYASAAEgL3rfD_BwE
https://www.proactiveinvestors.co.uk/companies/news/211923/angles-parsortix-liquid-biopsy-proving-to-be-more-than-just-a-cancer-detection-device-211923.html
https://www.future-science.com/doi/pdf/10.2144/btn-2018-0148