Webinar: Accepting animal-free bacterial endotoxin testing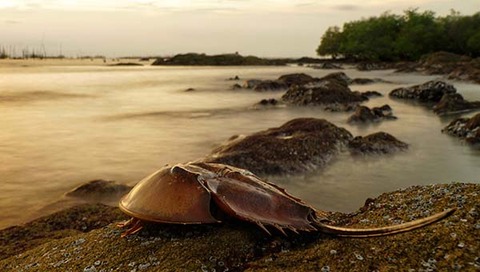 European, US, Japanese and Chinese pharmacopeia will include a synthetic substitute for horseshoe crab blood in their next revisions, despite some initial concerns from US Pharmacopia experts in May. Lonza now invite you to find out more about the impact of these regulatory developments in their upcoming webinar…
"Attend this webinar to learn about the past, present and future potential for recombinant endotoxin detection technology. This sustainable technology is rapidly gaining interest from industry and regulatory stakeholders, " Allen Burgenson, Subject Matter Expert, Lonza Testing Solutions.
A remarkable sensitivity to bacterial toxins makes the blue blood of the horseshoe crab critical to biomedicine. The transformation of horseshoe crab blood into an almost solid mass on contact with toxins makes it invaluable as a biocontamination test agent. With demand so high, the future of these ancient arthropods is in doubt, and animal rights groups have pushed for sustainable replacements.
Over the last few years, the biomedical industry and several horseshoe crab conservation organizations have been requesting that global pharmacopeias consider the animal-free rFC assay as a compendial bacterial endotoxin test (BET), equivalent to the gold standard animal-based Limulus Amebocyte Lysate (LAL) method.
While Maryland-based US Pharmacopeia (USP) experts concluded there was too little practical experience with drug products tested with rFC to put the synthetic tests on equal footing with horseshoe crab blood tests, they have still agreed to include rFC in a new chapter, rather than part of the existing chapter, as they believe this is an important development. And now, the European, Japanese and Chinese pharmacopeias have also announced plans to incorporate the sustainable rFC assay into upcoming revisions of their respective BET chapter or as a standalone chapter dedicated to the methodology.
Experts at Lonza are aware of the importance of the horseshoe crab for its contribution to the safety of drugs and medical devices, but also its ecological role. In 2016, the company first committed to protecting the welfare of the horseshoe crab through adopting best practices and actively supporting conservation efforts. You can read more of their findings in the paper 'FDA and USP can help promote horseshoe crab conservation', available on the company website.
To further this cause, Lonza will host a free 60-minute webinar on 16 June, covering the latest regulatory developments surrounding the use of the recombinant Factor C (rFC) assay for endotoxin detection in parenteral pharmaceuticals and implantable medical devices.
During the webinar, Allen L. Burgenson, Global Subject Matter Expert for Testing Solutions at Lonza Bioscience Solutions, will also discuss best practices and considerations for drug developers and quality control (QC) laboratories looking to implement the rFC assay.
In the webinar titled; 'The Compendia are ready. Are you? A More Sustainable Future for Endotoxin Testing', Allen L. Burgenson will explore the following topics:
The new regulatory landscape for the rFC assay
The process of implementing the rFC assay in drug development and QC laboratories
More information about attending the webinar is available here.
The Compendia are ready. Are you? A More Sustainable Future for Endotoxin Testing
Presenter: Allen L. Burgenson,Global Subject Matter Expert for Testing Solutions
Moderator: Travis Wallace, Scientific Support Specialist, Lonza Bioscience Solutions
Tuesday, 16 June 2020
8 AM PDT (Los Angeles)
11 AM EDT (New York)
4 PM BST (London)
5 PM CEST (Berlin)
Further information can be found on Lonza's PyroGeneTM Recombinant Factor C Assay web page. By registering interest in the webinar, participants will also receive a link once it is available to view the webinar 'on demand' via the Lonza website: lonza.com