GSK partners CRISPR discoverer to develop rapid COVID-19 test
Gene editor turns gene detective: Dermot Martin investigates a successful COVID-19 test development collaboration...
A California-based company created to develop CRISPR gene editing technology, is collaborating with the UK's GlaxoSmithKline to develop a handheld test to detect active COVID-19.
The aim is to use CRISPR* to design a test that delivers an accurate result as quickly as a typical pregnancy test.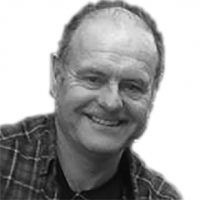 By Dermot Martin
One of the co-discoverers of CRISPR Dr Jennifer Doudna, is at the helm of the Mammoth Biosciences' research programme, giving the partnership with GSK added zest.
Early results for the new COVID-19 test created by Mammoth are promising.
The system, trademarked as DETECTR, can identify and signal the presence of viral strands obtained via a nasal swab. Those familiar with CRISPR gene editing will know that the enzyme Cas 9, when bonded to a guide RNA molecule, behaves like molecular scissors to snip and edit strands of DNA.
Cas 9 is a fascinating protein known for its key role in immunological defence. It is used by some bacteria such as (eg Streptocococcus progenes) in its defence against viral attack.
Although there's still much to learn about the mechanism, Cas 9 plays a pivotal role in the way bacteria not only defend against virus attacks, but also the way they self-mutate and build resistance to man-made antibiotics.
CRISPR strikes again
Doudna with Emmanuelle Charpentier and separately Feng Zhang at the Broad Institute, were the first to realise that bacteria can induce defensive mutations when attacked by antibiotics and it might be possible to harness this ability to manipulate and edit DNA in many situations. They were proved correct and CRISPR exploded on to the scene.
There have been high-profile legal wrangles over CRISPR patents and difficult ethical questions over its potential applications, but there is little doubt the scientists behind it are on the radar of those who award Nobel Prizes.
If Mammoth's new test passes regulatory scrutiny, it will be another feather in the cap for CRISPR.
Testing the Cas12 enzyme
For the test, Mammoth have turned to a close relative of Cas9, the enzyme Cas12.
Cas12 is associated with other bacteria, for example Francisella novicida. It is a compact and efficient enzyme that delivers "staggered cuts" to DNA stands. It processes its own guide RNAs, leading to increased multiplexing ability.
Cas12 has also been engineered as a platform for epigenome editing. It was discovered in 2018 that Cas12 can indiscriminately chop up single-stranded DNA once activated by a target DNA molecule matching its spacer sequence. It is a property of Cas12 which makes it a powerful tool for detecting miniscule amounts of target DNA in a mixture.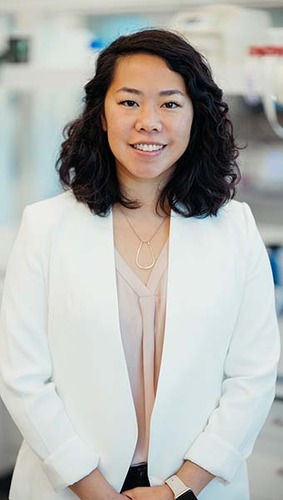 The technique was first applied by Janice Chen and her colleagues at Mammoth.
They validated it by screening patient samples for human papillomavirus, demonstrating almost perfect accuracy.
Janice (pictured) reported that the process took less than an hour from start to finish at little cost per reaction.
DETECTR enters the search for COVID-19 testing
Little did Janice and her group know, but two years later the DETECTR system would become a tool in the battle to find a fast, accurate test for the most pernicious virus the world has seen in the modern era.
DETECTR relies on a guide RNA that recognises a specific DNA or RNA sequence - for example, one of the genes found in COVID-19.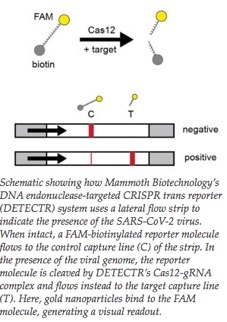 Cas12 and the gRNA will search for the sequence match. If the RNA target is present in a sample, the Cas12 will begin cutting it like a paper shredder.
The system uses additional RNA reporter molecules tagged with a fluorescent dye (fluorescein amidite, FAM) that produces a colour indicator when cut. When this system is used, the presence of the target of interest is detected indirectly through cleavage of the reporter -which activates only after the target is recognized.
The sample goes into a flow detection system using a lateral flow strip. If COVID-19 is absent, the indicator (or reporter) remains intact. It collects at the first detection line known as the control capture line.
If the sample is positive, the Cas-gRNA complex will cut the target and the indicator molecules. These cleaved fragments collect at a separate location - the target capture line.
Gold nanoparticles bind to the fluorescent dye molecule on the indicator to generate a colour read-out on the strip.
Collaboration is the gamechanger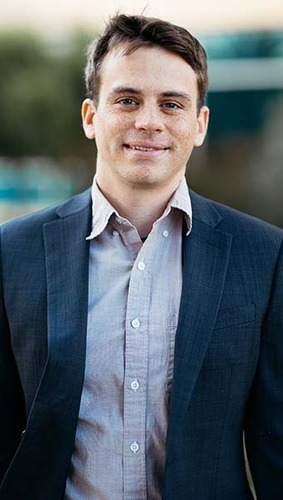 When the collaboration was formally announced in early May, Trevor Martin, CEO and co-founder of Mammoth Biosciences said. "COVID-19 is, of course, a key focus right now, but as a society what we need is a foundational shift in diagnostics – a scalable means to address disease detection.
"With a CRISPR-based diagnostic we can achieve a rapid and true point of need test, without compromising the accuracy of molecular testing for all types of infectious diseases."
Brian McNamara, CEO of Glaxo's Consumer Healthcare arm, said: "Access to quality and accurate testing is a critical need. We are excited to be working with Mammoth Biosciences and contributing our consumer insights and commercial expertise to develop a disposable rapid test that consumers can use to detect active COVID-19.
"We look forward to bringing the power of testing out of the lab and into people's homes."
Footnote: GlaxoSmithKline has also just announced that it will apply its adjuvant technology to any workable COVID-19 vaccine.
Adjuvants create longer-lasting immunity against infection allowing smaller amounts of a virus to be used in a vaccine. They make large scale vaccine production possible.
Virologists realise the ability to produce vast numbers of vaccine doses will be essential. At least seven experimental vaccines are under scrutiny including one by Sanofi, the French pharmaceuticals group. GSK has signed a collaborative deal with Sanofi last month. (April).
Roger Connor GSK's vaccine spokesman said: "More than one vaccine will be needed to address the pandemic and we are working with partners around the world to find them."
References
*clustered regularly interspaced short palindromic repeats