Virtual conference on low-carbon lifestyle changes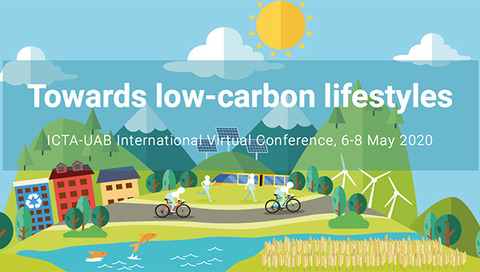 More than 500 researchers from all around the world will gather virtually tomorrow Wednesday May 6 at the Institute of Environmental Science and Technology of the Universitat Autònoma de Barcelona (ICTA-UAB) to discuss and propose how society should adopt more sustainable and low-carbon forms of lifestyle that contribute to mitigating climate change.
Spectators are still welcome to register last minute.
Given the exceptional situation that COVID-19 has brought to all of us, the conference was reorganised in recent weeks to convert it into a fully virtual meeting, thus adapting to the philosophy of the event, which aims to explore possible changes in society's lifestyles towards less polluting models.
Decreasing energy demand and promoting more sustainable consumption patterns are regarded as key elements for limiting global warming to 1.5°C. However, the study of lifestyle changes required for such purpose has received limited academic attention to date. As is tradition at the ICTA-UAB, this conference will bring together researchers from different academic disciplines to address and discuss the impacts, drivers and policies of low-carbon lifestyles.
The conference forms part of the institute's strategic program promoted within the framework of the María de Maeztu Unit of Excellence, granted to the ICTA-UAB by the Spanish Ministry for Science, Innovation and Universities, and which accredits it as a centre of reference for climate change and its socioeconomic impacts.
"We should stimulate positive changes towards low carbon economies and lifestyles", says Dr Patrizia Ziveri, scientific director of the María de Maeztu program at the ICTA-UAB, who explains that "although the COVID-19 emergency makes us realise our vulnerability, it is also is a great opportunity for a positive 'green' change".
Dr Ziveri considers that the COVID19 recovery plan "must tackle climate change" and this conference offers a great international platform for discussing and proposing new ways of sustainable low carbon living.
From tomorrow Wednesday May 6 until Friday May 8, the conference can be followed online. Participants will attend three keynote conferences by scientists such as Angela Druckman, Lorraine Whitmarsh and Céline Guivarch. Talks and presentations will allow addressing possible changes in lifestyles and their economic, social and environmental impacts in areas such as energy and food production, the transport of goods and people, domestic consumption, recycling, leisure and vacations, and the development of scientific research. To do this, scientists from around the world will explain their studies and experiences implemented in countries such as France, China, India, Germany, Argentina, Ghana, the Philippines, and the United States.
The conference will allow participants to interact and share their experiences and opinions through forums and discussion spaces.
To follow the conference in its entirety or only some of its sessions it is necessary to register here: https://lifestyle-changes.org/registration/
Programme: https: //lifestyle-changes.org/wp-content/uploads/2020/05/ICTA2020_Program.pdf