Going round in circles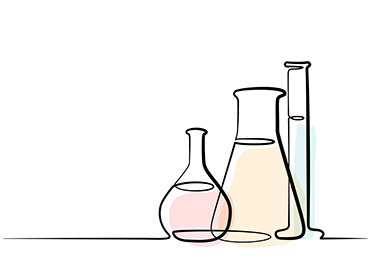 Single use plastics are a staple in the lab – but they are also are part of the plastics pollution problem. Here Bill Walford talks to Jeremy Carter about his recently launched campaign to increase the use of re-usable glassware…
Recent publicity led by Sir David Attenborough has focused public attention on the problems of plastic waste in our oceans. It is estimated that more than eight million tonnes of plastic enter the world's oceans each year and most of that escapes from land.
As a result of this increased awareness, there are now many campaigns demanding the banning of plastics; but it is not that easy. The BBC reports that around 400 million tonnes of plastic are produced annually of which about 40% is single-use, that is plastic that will be used only once before it is binned, often ending up in land fill.
Admittedly, many of the products manufactured from plastic could be made from alternative materials, but plastics have important properties such as chemical resistance, physical strength and inertness which are difficult to replicate. Where replacement is not a practicable option, recycling plastics as part of a circular economy is part of the solution. This is the vision of over 400 organisations that have signed up to the New Plastics Economy Global Commitment. The Global Commitment draws a line in the sand in the fight against plastic waste and pollution. It unites businesses, governments, and other organisations from around the world behind a set of 2025 targets to address the problem at its source. It is led by the Ellen MacArthur Foundation in collaboration with UN Environment.
What can labs do?
But how can laboratories contribute to solving the global plastics problem? Astell Scientific, the leaders in laboratory discard sterilisation, are working with the University of East Anglia to promote the adoption of re-usable glassware rather than disposable plastics wherever practicable and pre-sterilisation sorting of plastic laboratory waste to allow more efficient recycling.
In life science and trace chemical analytical laboratories, disposable plastic items of labware like microcentrifuge tubes, pipette tips and their boxes, plastic labels, and Petri dishes have become indispensable, not to mention packaging for lab materials and plastic bottles for containing growth media and reagents. Most of these items are thrown away after a single use. J P Morgan, the American banker, said that every man has two reasons for doing something: his good reason and his real reason. The good reason for single use is ensuring total sterility and preventing cross contamination. The real reason is often the convenience of saving time and labour.
With the exception of a small number of applications, such as ultrapure water testing, where glass might contaminate a sample, many of these plastic items can be replaced with sterilisable and re-usable glass.
Circular economy roadmap
This was the precept from which Jeremy Carter, Utilities Assistant Manager at the University of East Anglia's Norwich Research Park started his campaign. The university has one 216 litre and five 360 litre square section Astell autoclaves which are used for sterilisation of labware, media and waste discards. Jeremy's role in the university's Estates Division is concerned with sustainability and energy reduction. He began looking at the water and energy consumption of the university's autoclaves but then became slightly side-tracked. "I was trying to establish how much it cost to sterilise our laboratory wastes, and noticed that 50% of our autoclaved plastic waste is recyclable but goes to general waste," he says, "That's simply not sustainable." The cost of autoclaving glassware is not significantly different from that of autoclaving plastic, but sterilised glassware can be re-used.
Jeremy has started a trial within the university science departments to replace plastic labware with re-usable glass wherever practicable, and to recycle plastics where they cannot be replaced. "It means separating plastics before autoclaving, which is a bit of an effort," says Jeremy, "but these people are scientists, so it's not actually difficult to convince them that it's worthwhile." The campaign, which Jeremy hopes will be adopted by other laboratories, is firmly rooted in the three Rs of sustainability: Reduce, Reuse, Recycle. Here is his roadmap towards the circular economy.
In the average laboratory, there are many items such as bottles, containers, centrifuge tubes, vials, pipettes and culture dishes that are made from plastics. The first focus should be on reducing reliance on plastics, and especially single use, by replacing plastic items with sterilisable, re-usable glass. Re-using sterilised plastic containers may be an option, although the heat of the autoclave may cause so much distortion that the item is effectively destroyed. This leaves recycling.
A large percentage of autoclaved waste plastics are potentially recyclable, but still go to general waste. Polymers such as polyethylene, PET, PFA and polypropylene, can often be recycled, although the requirements for doing so can vary depending on your type of work and location. But new recycling technologies are constantly being developed so it is worth keeping an eye open for changes. Firstly check that the labware you are using is made of recyclable material and then separate the different plastics before autoclaving so more can be recycled afterwards. This means installing separate recycling bins to collect recyclable and non-recyclable plastics prior to sterilisation and disposal. This means a bit of extra work, so it should be explained to laboratory staff rather than being imposed, and it is important to ensure that contaminated waste does not enter the disposal routes for general waste and normal recyclables.
Finally, whether re-using or recycling, it is essential that sterilisation is achieved and can be shown to have been achieved. The autoclave should be validated, using the industry standard Multipoint test protocol, and the temperature should be monitored and recorded throughout the sterilisation sequence to provide documentary evidence that sterilisation was completed.
Whilst laboratory waste is only a small proportion of the total plastic waste generated globally, the scientific and research communities can help to set an example. If all plastic consumers recycled 50% it would reduce plastic waste by around 200 million tonnes every year and the circular economy would become a reality.
Author:
Bill Walford is Sales Manager: UK South for Astell Scientific