Inflatable lab for fast COVID-19 testing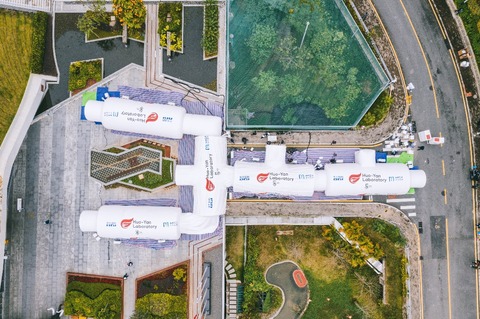 As many countries rapidly build-up screening and testing infrastructure for Covid-19, a Chinese institute have designed a mobile, inflatable P2 level biosafety laboratory
The Huo-Yan Air Lab has been produced by the Beijing Genomics Institute in collaboration with the company Etopia, have jointly designed a mobile, inflatable P2 level biosafety laboratory.
YIN Ye, CEO of BGI Genomics., said: "The Huo-Yan Air Lab fully meets the demands of global biosafety requirements and industry specifications."
The Huo-Yan (meaning 'Fire Eye') Air Lab's design uses a modular air dome structure. It can be transported by air as standard freight on any commercial passenger plan and constructed and deployed locally to support the screening and detection capabilities of countries around the world.
The company claim the lab can thereby allowing authorities to control the pandemic at an earlier stage. Huo-Yan is based on BGI's previous experience constructing a P3 level biosafety laboratory using an inflatable structure during the Ebola outbreak in 2014 in West Africa.
The new laboratory originates from when the pandemic first broke out in China. On January 24, BGI Chairman Wang Jian led his team to Wuhan to build and establish the Huo-Yan Laboratory in only five days. The Huo-Yan Laboratory in Wuhan was shown to handle up to 20,000 samples per day and has high-throughput gene sequencing and antibody detection capabilities. It provides a complete solution for screening, confirmation, differential diagnosis and immunological evaluation of patients.