We need to talk about live wet-markets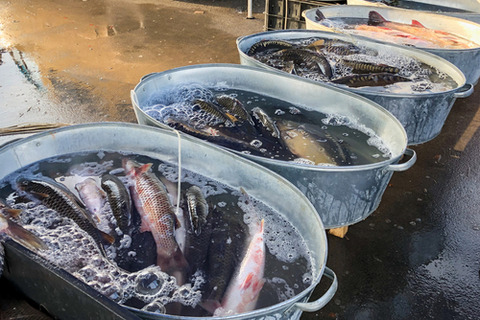 How do we make sure this doesn't happen ever again? How do we reduce novel zoonotics in our species?
It really is awful isn't it? Here at Lab News we hope you are all bearing up under Covid-Britain.
Some will be suffering from the virus physically, but you will all be facing adversity in some form. Either way – we are thinking of you.
And a huge vote of thanks goes out those in the scientific community working so hard on this – from pharmaceutical scientists to high throughput diagnostics experts and from medical device engineers to data scientists. History called, and you absolutely answered.
It is at times like these that one's mind drifts to all things existential. It is unlikely, however awful this thing is for those suffering, that Covid-19 will see the back of the human race. But the really scary thing? This is very much a dress rehearsal for the big one. Some avian flus have a mortality rate of 60% ­– simply terrifying.
And, if such a contagion does skip a species barrier, it is entirely likely that it would happen at live wet market – the type of which has been implicated as the source of the current crisis in Wuhan. And this isn't a surprise. Back in 2006 a paper was published in Current Opinion of infectious Disease that seems now to hold an almost frightening level of prescience. It discusses the then recent finding of severe acute respiratory syndrome coronavirus-like viruses in horseshoe bats, and the danger of Chinese wet-markets to facilitate transmission of the viruses to humans.
And there are many, many other papers on this. Unsurprising perhaps - in just the past 20 years, coronaviruses alone have caused three major outbreaks worldwide.
So, is it time to have a polite word about the practices surrounding these live markets?
There is history here. Calls for a ban, not just in China but globally, were manifold after the SARS outbreak in 2003. Chinese officials took action and banned them at the time, but only for a few months.
Now, there is, quite rightly, some cultural relativism to navigate here. In China, these types of markets came out of a time of starvation in the 1970s when farmers struggled to feed a growing population. Since then they have grown into a large industry in their own right ­– and it can't be ignored that they are a source of livelihood for many people.
So, how do we make sure this doesn't happen ever again? How do we reduce novel zoonotics in our species? I for one don't know… but I do know that many a virologist has said that if you were to design an experiment to encourage viral evolution in the direction of jumping a species barrier you couldn't do better than these live wet markets.
Time to call time? Maybe it is…
Phil Prime
Editor