Small plankton bad for carbon sequestration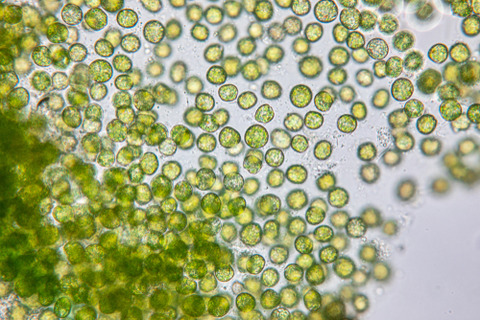 A study of phytoplankton in the North Atlantic suggest their cells are smaller than expected ­­–­ meaning a key weapon in the fight against excess carbon dioxide may not be as powerful as thought.
This means that commonly used carbon sequestration models might be too optimistic. Phytoplankton are microscopic organisms at the base of the ocean's food chain and a key component of a critical biological carbon pump.
Dr Steve Giovannoni, the study's corresponding author, and Oregon State University College of Science microbiology researcher said: "The findings are significant because the spring phytoplankton bloom in the North Atlantic is probably the largest biological carbon sequestration mechanism on the planet each year, and the size of cells determines how fast that carbon sinks."
Understanding how and why phytoplankton bloom every spring is critical to learning how the Earth's living systems could respond to global climate change. As the ocean pulls in atmospheric carbon dioxide, phytoplankton use the CO2 and sunlight for photosynthesis converting them into sugars the cells can use for energy, producing oxygen in the process.
The phytoplankton cells absorb that CO2 eventually sinking to the bottom of the ocean as they die. The planet's ecological health depends on regular plankton blooms such as the spring event in the North Atlantic in which huge numbers of phytoplankton accumulate over thousands of square miles.
Giovannoni said: "We're not certain whether our new observations of small phytoplankton in the western North Atlantic are due to physical differences between the western and eastern North Atlantic, ocean warming and higher atmospheric CO2 concentrations, or constraints of earlier research methods," he said. "There's also a chance our observations were an anomaly, a coincidence. We don't know for sure."
The Oregon State University research into the microscopic algae, part of NASA's North Atlantic Aerosols and Marine Ecosystems Study, was published in the International Society for Microbial Ecology Journal.