Shifting the access barrier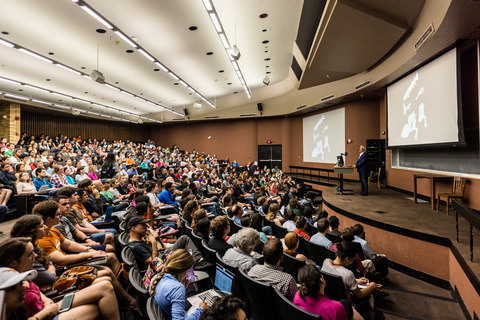 Are scientists put on a pedestal? And does that put people off engaging with their science? As a national programme backed by the British Science Association changes the way people interact with scientific knowledge, we ask whether Access Labrepresents a new era of public engagement and if it can help tackle the issue of knowledge inequality…
Without too many exceptions, the balance of power at public science events lay with the academics.
Whether presenting their research paper, fronting a lecture theatre or standing on a soapbox at public events, the dynamics of these events tend to play out in a way where the scientist is seen as the wisdom provider.
Whatever the reason for this, Access Lab, a British Science Association-backed project, is trying to change this unconscious convention by shifting the power dynamic with a completely new model of public engagement.
Concept
Access Lab is a format for hosting workshops around the country. At an Access Lab event, scientists are paired with local people, such as councillors or members of the public, who are interested in learning about a particular area of science.
But rather than being partnered with an expert in that particular subject, community members are partnered with a scientist who is fairly new to the topic in hand. For example, someone interested in genetics is partnered with an academic in fracking.
Once paired, both citizen and scientist work together to research the chosen subject online. This way, citizen and scientist are on an equal footing and are in the process of learning a new subject together.
The pair are also given a variety of research tasks relating to the accessibility and reliability of research sources, during which they can observe the differences between their research methods, culminating with an open discussion with the rest of the group.
Access Lab was set up by FoAM, a network of transdisciplinary research labs, following a pilot in 2015. Its director Amber Griffiths explians: "We absolutely don't think of the participants as 'experts' and 'citizens' – they are all experts, just in different things.
"The whole ethos of these workshops is that people are working together as equals, without the scientists-on-pedestals approach that is so common in science public engagement projects."
The Access Lab model represents a shift in the balance of power so that the scientists don't hold the responsibility of providing all the answers. This way, when the researcher is asked questions they don't know the answer to, they can use their innate skills – which a researcher often gains unconsciously throughout their career – to find and judge the reliability of sources of information together, Griffiths says.
"They are often overlooked as skills, but fundamentally as a researcher you learn how to find information, sift through it quickly, and judge its reliability.
"As an example, PhD students often start out by writing a review paper on a particular topic, which requires them to find and synthesise a huge amount of information – those skills develop throughout a research career, almost in the background without being noticed."
Verdict
The first two Access Lab workshops were held in Cornwall in 2017 – the first partnering artists with science researchers, and second partnering council members and community group leaders with science researchers.
In 2018, three more Access Lab events were run in the South West, first in Penzance for the marine sector, then in Exeter for media, and in Plymouth for policy makers.
But the initiative isn't restricted to the southwest of England. In May 2019, the Access Lab format was published in PLOS, ensuring Access Lab events can be set up by anyone anywhere in the world.
FoAMhosted its last Access Lab event for Extinction Rebellion in the summer. One researcher at the event said the Access Lab approach helped them "realise the extent to which I rely on implicit and specialist knowledge to judge the reliability of information".
"It was quite empowering to see that I could make a small contribution to improving access to information, which is refreshing when outreach is so often about 'experts' lecturing to a fairly passive audience," they said.
"I think that's a real benefit for researchers who don't necessarily feel like they belong in the university bubble. It was also great to connect with other researchers who are passionate about making science more reliable and accessible, as it can sometimes feel like few senior academics care."
Griffiths adds: "To be able to express thoughts and get answers directly from the researchers is possibly one of the most valuable outcomes of the workshops – it means people learn to trust each other, and form communities that then go on to work together more effectively because they understand each other better."
One of the previous Access Lab participants is in the process of setting up a workshop in Totnes. Three more Access Lab events focused on climate, environment and health will also take place in Falmouth Library in 2020.
The wider issue
But Access Lab isn't just a new form of public engagement. The internet is, as we all know, a hazardous place for scientific misinformation, and inaccuracies spread like wildfire due to a reliance on secondary sources of information to generate clickable science headlines.
Around 70% of the public now believe the media sensationalises science and that there is "so much conflicting information about science it is difficult to know what to believe".[1]It doesn't help that around only 13% of scientific journals are fully open access, massively restricting access to the original sources.
But this will change. In January 2021, Plan S will come into force, making publicly funded scientific works free to read as soon as they are published. The original inspiration for Access Lab was to tackle issues that Plan S seeks to solve – a lack of equal access to scientific information, including the large proportion of scientific journals behind a paywall, and the issue of knowledge inequality – a form of inequality recognised by the UN.
"If some people have access to more or better information than others, that's a form of inequality, which we could and should fix," Griffiths says.
But Plan S is only the tip of the iceberg and represents just a first step towards accessibility. To be able to make use of scientific research papers you need to know that they exist, where to find them and how to access them. And this is where Access Lab comes in.
"One thing that troubles me is that Plan S will only be effective for papers published after the date it comes into force and won't do anything to provide access to the millions of papers published before that date," Griffiths says.
"You then of course have the barrier of trying to read them and judge whether you think they are good sources of information or not, and neither of these are easy tasks unless someone helps you through the process.
"So, it's a partial solution to open access, which itself is a partial solution to research accessibility."
References
[1]Public Attitudes to Science 2014: https://assets.publishing.service.gov.uk/government/uploads/system/uploads/attachment_data/file/348830/bis-14-p111-public-attitudes-to-science-2014-main.pdf
Author:
Jonathan Chadwick