Bioimaging collaboration takes on viral disease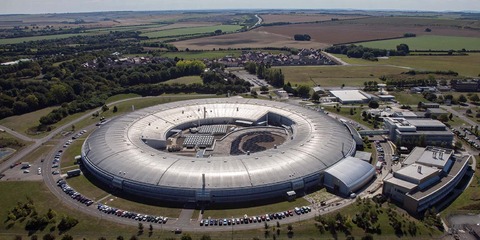 A new institute collaboration will allow scientists to study viral diseases in greater detail.
A new five-year collaboration agreement is now in place between Diamond – the UK's national synchrotron – and The Pirbright Institute which predict, detect, understand and respond to the threat and potential attack of serious viral diseases of livestock and viruses that spread from animals to humans.
Pirbright's Head of Bio-imaging, Professor Pippa Hawes said: "There is a lot of preparatory work that can be carried out at Pirbright with our microscopes. We can use them to really define the questions we need to answer and then ensure we have samples prepared in a way that will maximise their use at Diamond. I am hoping this collaboration between Pirbright and Diamond will help me guide our researchers through this process to achieve the best results and will enable them to answer critical questions and progress their research."
There are many scientific questions that can be answered using Diamond's advanced microscopes, which have driven the recent 'resolution revolution'. Projects that involve understanding the cell biology of virus-host interactions as well as how viruses replicate are particularly well suited for these techniques.
As part of the collaboration Diamond will make avaliable its cryo-electron microscope facility, known as the Electron Bio-Imaging Centre (eBIC). Professor Dave Stuart – Professor of Structural Biology at the University of Oxford and Life Sciences Director at Diamond Light Source – said: "This is a fantastic opportunity to build and expand on our great relationship with Pirbright, helping to drive forward infectious disease studies. Working together, this strategic collaboration in bioimaging, is key to tackling 21st century challenges, in this instance animal diseases which have a tremendous worldwide impact on farming and economies."