Celebrating the improbable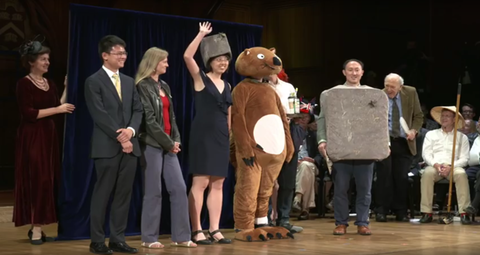 Another year, another heart-warming evening commemorating the silly, unusual and often random side of science.
The 29th First Annual Ig Nobel Prize Ceremony took place this Thursday evening at the Sanders Theatre at Harvard University, awarding research that "makes people laugh and then makes them think" in 10 categories.
This year's trophies were constructed from coffee cups, chewing gum, mobile phones, cigarettes, scratch cards and toothbrushes, to represent this year's research theme: habits. As well as the trophy, winners were also awarded a certificate and a now defunct $10 trillion Zimbabwean dollar note. Here were some of the lucky winners…
The prize for Anatomy went to Roger Mieusset and Bourras Bengoudifa, for measuring scrotal temperature asymmetry in naked and clothed postmen in France – an award accepted by an American postal worker on behalf of the research team, complete with a speech laced with innuendo. The word "package" may or may not have made an appearance.
In case you were wondering, left scrotal temperature in the clothed state was higher than right scrotal temperature and a lack of thermal symmetry was observed, whether naked or clothed.
A Japanese team took home the Chemistry prize for estimating the total volume of saliva produced per day by a five-year-old child (500ml). Shigeru Watanabe accepted the award with his adult sons, who were some of the research subjects 35 years ago and re-enacted the research methods on stage.
In Medicine, an Italian team was awarded for collecting evidence that pizza might protect against illness and death – with an important caveat – if the pizza is made and eaten in Italy. While in Physics, studies into how and why wombats make cube-shaped poo, which they use to communicate with each other, are "scientific proof that you can squeeze a square peg into a round hole".
The funniest moment of the evening was the concise demonstration from the winners of the Biology prize of how dead magnetised cockroaches behave differently to living magnetised cockroaches.
In these testing times, Marc Abrahams' spoof on the Nobels maintains its gloriously low budget feel and eccentric traditions, including paper airplane tossing, silver-painted torch-holding stage hands, and Miss Sweetie-poo, an eight-year-old girl who walks on-stage every time an acceptance speech ran over a minute to repeatedly shout: "Please stop. I'm bored."
If you missed it, the awards ceremony is on YouTube, while the 2019 Ig Informal Lectures, where the winners will explain the science behind their award-winning work (without being shouted at), will be live-streamed this Saturday night, at 6pm BST.
Jonathan Chadwick