Too much monkey business?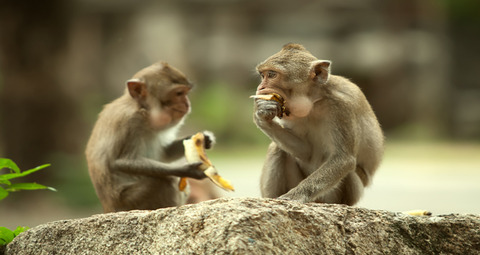 Despite the fantastic work going on in animal-replacement technologies and method development, why is it proving so hard to reduce the amount of animals we use? Russ Swan thinks he might know, and it involves bananas… kind of…
I was once told a little story about a troop of chimps in a zoo, in a far-off land where animal welfare was less advanced than it is here. Long ago, in a zoo far away, if you like.
There were five animals in a reasonably comfortable enclosure, and generally not mistreated – other than being held captive, that is. One day a zookeeper started an experiment.
He installed powerful hoses connected to a trigger attached to a hook in the middle of the enclosure. It was rigged so that any tug on the hook would cause all of the chimps to get a drenching with cold water. Then he hung a nice ripe bunch of bananas from the hook.
I can't help thinking that we are all trapped in similar loops of faulty logic, in ways we can sometimes barely recognise.
Naturally, the first chimp to attempt to take a fruit got soaked, and so did the others. It didn't take them long to make the connection between the bananas and the soakings, and pretty quickly they began to ignore the delicious sweet temptations before them.
Then, in the nature of things, one chimp was transferred to a different zoo and a replacement arrived. Meanwhile, the cunning zookeeper had dismantled the spray system. The new beast immediately went for a banana, only to be scolded aggressively by the original inhabitants. She soon learned that, tempting as they were, those bananas were off limits.
Before long, another primate transfer was performed. It will not surprise you to learn that the same series of events played out, with the new animal being berated by the inmates for even approaching the bananas. Those ripe, juicy, tasty bananas.
The new girl was chastised by all four resident chimps, including the first replacement. This was an animal that had never been squirted, yet she knew the rules of the cage and joined in the law enforcement with enthusiasm. Pick on the new kid, that way you won't get picked on yourself.
Woah. Flashback to school days. Sorry, where was I?
Let's wind forward a little. Further replacements were made, and the scenario repeatedly played out. All of the five chimpanzees in the enclosure loved bananas, yet none of whom dared touch the fruits dangling so tantalisingly nearby. None of the five had ever been squirted, and the squirting mechanism had long since been dismantled, yet they all knew how things were done – or not done – in this domain. Nobody touches those bananas. It doesn't matter why, it only matters that that is the rule.
A loop of our own?
I can't help thinking that we are all trapped in similar loops of faulty logic, in ways we can sometimes barely recognise. The issue of animal experiments seems to be one of these.
I attended a symposium on the topic last month, marking the 50th anniversary of the establishment of the Fund for the Replacement of Animals in Medical Experiments, FRAME. If nothing else, it was a chance to mark a 50th that didn't involve Apollo.
The take-home message was as stark as it was clear: we use (ie, kill) millions of animals in useless medical experiments every year. The science we get from them is very poor, the translatability of results into human medicine woefully bad, and yet we still do it.
The overall number of animals used is inching downwards, but at an agonisingly slow pace. New technologies involving microfluidics or computational methods are being refined, but are still on the fringes of medicine research. In any case, these and other alternatives continually bump against the immutable requirements of legislation and, perhaps, corporate intransigence.
Why do we do this? Because that's the way we do things. Drugs must be tested on animals because drugs are tested on animals. And don't even think of touching those bananas.
Russ Swan