Signals suggest black hole swallowed neutron star
Gravitational wave detectors have registered evidence of a black hole swallowing a neutron star for the first time.
Last Wednesday, gravitational-wave discovery machines detected ripples from an event, called S190814bv, that occurred about 900 million years ago, 8,550 million trillion kilometres from Earth.
Professor Susan Scott, from the ANU Research School of Physics, said: "We're very confident that we've just detected a black hole gobbling up a neutron star.
"This black hole ate a very dense star, known as a neutron star, like Pac-man – possibly snuffing out the star instantly."
Based on gravitational readings, scientists can estimate the mass of each object involved in such an event. An object that registers five solar masses and above suggests a black hole, while neutron stars tend to be more than 2.5 solar masses but less than five.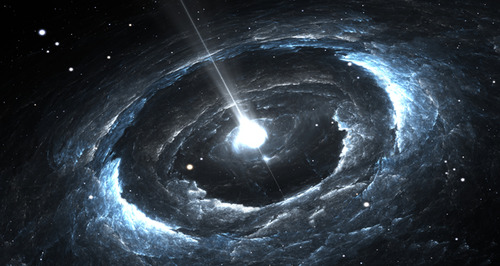 Neutron stars are the collapsed core of a giant star. These ultra-compressed dead stars have a radius of only 10km and a mass of about 1.4 times that of the sun.
The readings show one component to be more than five solar masses and the other to be less than three solar masses – highly suggestive of a neutron star black hole (NSBH) event.
LIGO scientist Geoffrey Mo has said the likelihood of a neutron star black hole merger to be at least 99% positive. Even if the low-mass component was not a neutron star, however, it could have been a low-mass black hole – in itself an exciting finding.
The final results are yet to be published.
The readings were registered by interferometer projects LIGO, which comprises twin detectors in the US, and VIRGO, which consists of a gravitational-wave detector at the European Gravitational Observatory in Italy.
LIGO and VIRGO observed the largest merger of black holes ever recorded in December last year.