Physicists borrow from social networks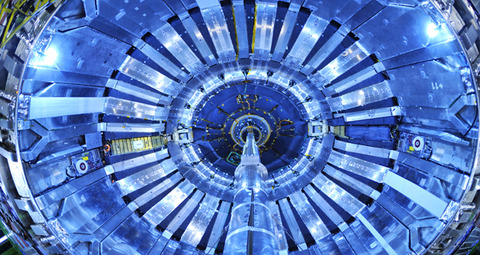 A new technique treats debris from proton collisions like a social network in order to distinguish normal data from unusual data that could be further researched.
Physicists at MIT developed the technique for identifying interesting physics using open data provided by the Large Hydron Collider.
Jesse Thaler, associate professor of physics at MIT, said: "Maps of social networks are based on the degree of connectivity between people, and for example, how many neighbours you need before you get from one friend to another. It's the same idea here."
When particles collide, the impact causes a release of debris, which scientists can study in order to learn more about how particles, and the units that make them up, act.
When these collisions are happening millions of times over – such as in the LHC – they will inevitably produce some outlier results, which can be studied and yield new physics. The problem up until now has been how to sift through the data in order to find these promising outlier results.
Thaler and his team therefore decided to create a networking system that compares similarity. Rather than looking for a particular outcome they, as co-author Eric Metodiev said, "wanted to let the data speak for itself".
The team looked at 100,000 pairs of "point clouds" (essentially the debris produced from a particle collision) and numbered the pairs based on similarity.
They then arranged these numbers in a network of connected pairs based on similarity, not only allowing identification of the most common events, but importantly allowing the least connected – and therefore most unusual – data sets to be easily be identified for further research.
If this networking system is shown to be successful, it could be used on open data sets from around the world. Thaler's team even envision using the method to analyse data years old. By creating a technique that looks for outliers, data forgotten for decades could be shown to yield groundbreaking new physics never before noticed.
The team had their technique published in Physical Review Letters.
Lydia Wilson