3D-printed collagen forms functioning heart parts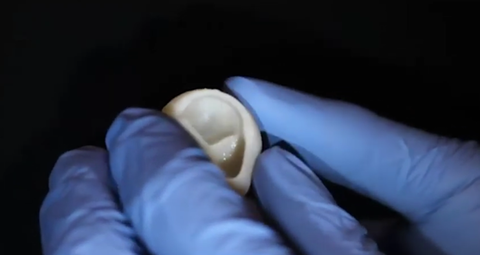 A new bioprinting method allows anyone to 3D-print functioning components of the human heart.
Researchers at Carnegie Mellon University's College of Engineering used clinical imaging data of a human heart to bioprint five patient-specific anatomical heart structures, including working valves and ventricles, made from collagen and human heart cells.
Andrew Hudson, co-first author of the technique, which was published in Science, said: "Collagen is an extremely desirable biomaterial to 3D print with because it makes up literally every single tissue in your body.
"What makes it so hard to 3D print, however, is that it starts out as a fluid – so if you try to print this in air it just forms a puddle on your build platform. So we've developed a technique that prevents it from deforming."
In human organs, cells are held together by a biological scaffold called the extracellular matrix (ECM). To compensate for the lack of this natural ECM, the researchers printed the collagen layer-by-layer while immersed in a beaker of support gel. This gel, composed of a gelatin microparticle slurry, had a neutral PH, compared to the PH level of the collagen solution of around 5. This rapidly neutralised the collagen, causing it to solidify.
The method allows the large-scale printing of collagen scaffolds without them losing their shape. A range of soft gels can be used with this technique, including fibrin, alginate and hyaluronic acid.
The researchers have open-sourced their bioprinter designs to allow medical labs and schools to follow the method. A commercial-grade version of the support bath, called LifeSupport, is also available.
The team's technique has applications in regenerative medicine such as wound repair, as well as organ bioengineering. Challenges still exist that prevent fully cellularised adult-sized human hearts – including generating enough cells and replicating contractile functions. But a spinout called FluidForm – co-founded by Hudson and his Carnegie Mellon professor Dr Adam Feinberg – will continue to advance the technology.
In April, a research team based at Tel Aviv University 3D-printed what it said was the world's first vascularised heart using human cells – although it was only around the size of a rabbit's heart.