Ozone smog will get worse with climate change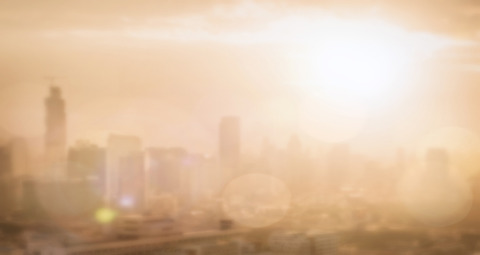 Rising temperatures due to climate change will increase concentrations of ozone in the air to dangerous levels, according to a new study.
By analysing climate data, a University of Delaware team established a trend between high ozone levels and rising temperatures during mid-Atlantic summers.
They report that as global temperatures increase, summers will get hotter and lead to more days with higher ozone concentrations in Earth's lower atmosphere, which is damaging to human health.
Leader of the study, Cristina Archer at University of Delaware's College of Earth, Ocean and Environment, told Laboratory News: "By mid century we will have five extra days of high ozone per year with respect to today.
"Of these, 2.5 are due to an increase in the frequency of synoptic types that are conducive to high ozone and 2.5 are due to increases in temperature."
Ozone in the Earth's upper atmosphere blocks ultraviolet rays from the sun. But when at ground level and breathed in by humans, it can cause cardiopulmonary and respiratory complications, inflammation of lung cells and aggravation of chronic lung diseases.
It also reduces the disease-fighting capabilities of the immune system, and prolonged exposure can lead to permanent lung damage.
Professor Archer said: "It is especially bad if you already have a respiratory condition, asthma, for example, or an infection.
"In Delaware, we are barely in attainment or slightly in non-attainment [of ozone regulations]. When we are not in attainment, the Environmental Protection Agency has to act. That is the relevance. That is why we need to know now there is a problem, so we can act on it."
Although almost no ozone is directly emitted by human activities, UV rays from the sun cause photochemical reactions between nitrogen oxides (NOx) and volatile organic compounds (VOCs), creating the gas, which can be seen as smog during the summer.
Nitrogen oxide emissions occur when cars or power plants burn fossil fuels such as coal and gasoline, while VOCs derive from cars, paints, insecticides, cleaners, industrial solvents and chemical manufacturing.
Because ozone can be degraded by the compounds by which it is formed and because nitrogen oxides are highly prevalent in cities, ozone pollution tends to be worse in rural areas. In England, for example, rural areas of the south-east are particularly affected.
In April, a report from the Department for Environment, Food and Rural Affairs revealed an annual rise in daily maximum eight-hour mean concentrations of ozone in the UK in 2018, due to last summer's prolonged heat wave.