Making CAR-T affordable and accessible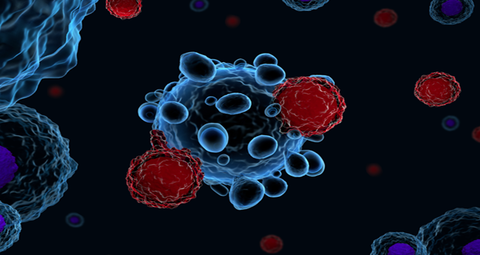 To fulfil the live saving potential offered by CAR-T therapies to blood cancer patients, the next step is to ensure the technology is not restricted to a small subset of patients who can afford it, says Dr James Hallinan at Cambridge Consultants…
Chimeric antigen receptor T cell (CAR-T) therapies have risen to prominence over the last two years, since the first FDA approval of Kymriah from Novartis, in 2017. This class of drug product is revolutionary – using the body's own cells as living medicines that don't just attack a patient's disease, but continue to grow, replicate and provide a long-lasting protective effect that can potentially prevent relapse for the whole of the patient's lifetime. This is hugely exciting, but unless costs can be brought down significantly, the real-world impact of CAR-T will be limited.
Method
The CAR-T treatment process is unusually complex: A patient has their white cells taken via apheresis, and these cells then enter series of steps including washing, transforming with a virus, activation and expansion, more washing, packaging and finally freezing for transport back to the patient and re-infusion. This whole 'vein-to-vein' journey takes around two to three weeks, during which time the patient is treated with chemotherapy to remove their cancer cells and their own normal T cells.
Currently, CAR-T has been approved for only two indications – paediatric acute lymphoblastic leukaemia (ALL) and diffuse large B-cell lymphoma (DLBCL). There are many clinical trials using CAR-T and related cell therapy approaches to treat other cancers – primarily other haematological malignancies such as myeloma, but there is also some promising early work being done in solid tumours, including melanoma, non-small cell lung cancer and gastrointestinal carcinoma.
There is a multitude of companies – large and small – working on engineered cell therapies. The first to market were Novartis, closely followed by Kite (owned by Gilead) in 2018. Other pharma companies are entering the field via alliances and acquisitions. For example, the proposed purchase of Celgene by BMS will bring the Juno CAR-T products into its portfolio, whereas GSK have partnered with biotech Adaptimmune to finish late-stage clinical development of their SPEAR T-cell therapy. The whole sector is growing at an incredible rate: The Alliance for Regenerative Medicine reported that there was $2.1 billion raised for gene-modified cell therapies in Q1 2019 alone, and that in 2018 there was a 64% year on year increase in capital raised (to a total of $7.6 billion).
Costs
However, there are significant barriers to the uptake of these therapies. The most obvious challenge is the cost of these treatments.
Kymriah has a list price of $475,000 for paediatric ALL patients in the USA, and Yescarta is priced at $373,000 for DLBCL. As is typical with new treatments, significant discounts are being applied. Some of these have been made public – for example, the news last month that Kymriah will be sold in Japan at a cost of $306,000 – which will have added to pressure on pricing in the EU and elsewhere.
In addition to the sticker price, there are ancillary costs that hinder patient access. Hospital inpatient costs can be significant, and patients often spend several days in intensive care after CAR-T therapies are administered. There are also challenges around the method and care setting of administration. The industry has been keen to move to delivering CAR-T therapies in out-of-hospital clinic settings, but this in turn will cause problems in the USA with Medicare coverage of care costs. Insurers, hospitals, therapy developers and public health care systems will need to work together to come up with pragmatic solutions to this confusion around reimbursement.
The question then arises: Why are these therapies so expensive? The main contributor to the price is the cost of manufacturing the therapies on a bespoke, patient-specific basis. Both Yescarta and Kymriah are manufactured in extremely expensive clean room facilities, and the process involves large amounts of manual preparation by highly skilled technicians. It will be crucial to eliminate the majority of the costs of manufacture in order for CAR-T therapies to reach greater patient numbers, but this will not be straightforward to achieve.
One of the perverse challenges facing therapy developers is the incredible efficacy of these treatments. Patients have responded so well that health regulators have required a much smaller body of patient data than would be typical for traditional small molecule therapeutics. Consequently, companies who have been using a manual manufacturing process for early clinical development through Phase 2 clinical trials have found themselves with a data package that is sufficient for regulatory approval, but at the cost of then being largely locked in to an expensive manufacturing process.
Automation
The alternative of moving to automated, lower cost solutions at an earlier stage, before proof of clinical concept, is also risky and not particularly attractive to early-stage investors. The sector will have to accept the need to move to more efficient, lower cost manufacturing processes at an earlier stage in development than would normally be typical, which will take a significant realignment for CTOs, regulatory advisors, investors and clinicians.
Some automation solutions have already been launched, for example the Miltenyi Prodigy system and the Lonza Cocoon incubator. However, these systems also suffer from a lack of adaptability for different cell therapy products and have significant consumable costs. More importantly, they have not delivered on the other significant challenge in manufacture: reducing the time needed.
New technologies will need to be developed to bring down these production costs and time, otherwise it seems the field of CAR-T will be restricted to a small subset of patients who could benefit and can pay. Custom automation solutions may prove to be part of the answer, and along with improvements in monitoring, biology and CAR construct design could also offer lower costs and potentially improved clinical outcomes.
CAR-T therapies are hugely exciting and are revolutionising care in the cancers that they have received approval for. However, the cost of these therapies will prove a major obstacle to these therapies achieving their full potential to help a wider range of patients. Improved manufacturing methods will be essential to drive down the cost of these therapies, and this is a challenge that biotech and pharma companies need to address at a much earlier stage than they are used to.
Finally, health care systems, payers, therapy developers and clinicians will all need to work together to bring these therapies – which represent the future of cancer care – to as wide a patient population as possible.
Author: Dr James Hallinan is Synthetic Biology Business Developer for Cambridge Consultants