Croc teeth suggest plant diet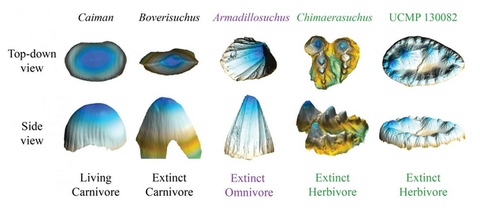 Differences in fossilised crocodile teeth suggest multiple ancient forms of crocodile were herbivores.
Researchers from the University of Utah measured digital scans of 146 teeth fossils from 16 different species of extinct crocodyliforms.
Some scans resembled the teeth of living caiman, which are of a simple conical shape. Meanwhile, more complex patterns not seen in modern-day species, featuring major ridges and cusps, indicated a more varied diet.
Lead researcher Keegan Melstrom said: "The herbivores lived on different continents at different times, some alongside mammals and mammal relatives, and others did not. This suggests that an herbivorous crocodyliform was successful in a variety of environments."
Melstrom and his team estimated that herbivorous crocodyliforms independently evolved about three times, firstly appearing shortly after the end-Triassic mass extinction. They persisted until the end-Cretaceous mass extinction that killed off all dinosaurs except birds.
The researchers — whose study was published in Current Biology — now want to deduce why the extinct relatives of crocodiles diversified so radically after one mass extinction but not another.
While some of these species looked similar to modern-day alligators, others differed, lived entirely on land and had legs beneath their bodies.
"I kind of think of these ones as a hairless, armoured dog or cat," Melstrom told AFP.
Interpretations of the extinct crocodyliform feeding ecologies have ranged from carnivores, insectivores, omnivores and herbivores.