Graphene synthesised with eucalyptus bark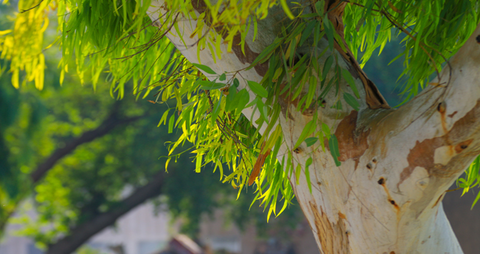 Australian and Indian researchers have used a chemical from the bark of the eucalyptus tree for a new eco-friendly method of synthesising graphene.
Scientists at RMIT and the National Institute of Technology in Warangal say the safer and more sustainable method could reduce the cost of graphene production while ramping up production down under.
RMIT lead researcher Suresh Bhargava: "Eucalyptus bark extract has never been used to synthesise graphene sheets before and we are thrilled to find that it not only works, it's in fact a superior method, both in terms of safety and overall cost."
Chemical reduction of graphene oxide is the most common method for synthesising the one-atom-thick material at bulk and low cost. But the process usually requires reducing agents, such as sodium borohydride, that are harmful to the environment and human health.
This greener method, which used a eucalyptus polyphenol solution obtained from eucalyptus bark, avoids the use of such toxic reagents. The abundance of eucalyptus trees in Australia, meanwhile, makes it a cheap and accessible resource for graphene production down under.
Professor Bhargava estimates that the technique could bring the cost of production down from US$100 per gram to US$0.5 per gram and increase the material's availability to industries globally.
Graphene, which conducts heat and electricity 10 times more effectively than copper, has potential for manufacturing flexible electronics, solar panels, water filters and biosensors.
"Graphene is a remarkable material with great potential in many applications due to its chemical and physical properties and there's a growing demand for economical and environmentally friendly large-scale production,'" Professor Bhargava said.
RMIT University and the National Institute of Technology in Warangal, India had their research published in Sustainable Chemistry and Engineering.