The difficulties of defining 'moderate' drinking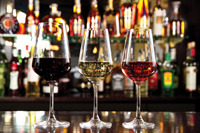 Last year, national newspapers ran a story suggesting that drinking a bottle of wine a day isn't necessarily bad for you. It was based on comments by former World Health Organisation alcohol expert Dr Kari Poikolainen – but was it a gross over simplification by a mainstream press keen to avoid complexity, or a valid summary of his findings? Here Dr Poikolainen, having analysed decades of research into the effects of alcohol on the human body, tells us the real story…
Last year, national newspapers ran a story suggesting that drinking a bottle of wine a day isn't necessarily bad for you. It was based on comments by former World Health Organisation alcohol expert Dr Kari Poikolainen – but was it a gross over simplification by a mainstream press keen to avoid complexity, or a valid summary of his findings? Here Dr Poikolainen, having analysed decades of research into the effects of alcohol on the human body, tells us the real story…
Many official and professional groups have published guidelines defining the line between moderate and hazardous drinking. These are variously called risky levels, sensible levels, recommended levels or safe levels. All suggested levels are unreliable guestimates. I know eminent scientists who have refused to take part in the guideline committees because the task to set reliable limits is in their view impossible. Nevertheless, guidelines are published. Why? Perhaps because people want simple answers for a complex problem. Or because some experts believe that authoritative rules serve the public better than revealing the complex and imprecise scientific evidence.
In the laboratory, scientists know how to evaluate the accuracy of measurements and how to improve it. In the wide wild world outside the lab, when trying to find out the effects of alcohol intake on health many more sources of error undermine our efforts. There are several reasons.
The problems
The best available data comes from longitudinal follow-up studies. At baseline, information about alcohol intake and other factors are elicited by interviews or questionnaires. The cohort is then followed for a rather long time, say 10-15 years. Onset of diseases and deaths are registered. Confounding factors are controlled in statistical analysis and adjusted risk estimates are calculated.
1. The reference group – against which groups with varying intake levels are being compared – is usually current abstainers, or better still lifelong abstainers. The latter is better because current abstainers may include ex-drinkers. However, lifelong abstainers are not always an ideal reference. In some countries, like in the UK, it is a small and deviant group. In other countries it can be rather similar to moderate drinkers. In the USA, where most of the evidence comes from, lifelong abstainers are a good reference group. There abstainers comprise approximately one-third of the population and in some groups their number may reach 60 percent. Lifelong abstinence is often due to ethical or religious motives, prevailing traditions or lack of interest in alcohol. Possible comparisons between the groups would be better balanced in randomised controlled trials. Alas, these are not feasible because of both practical and ethical difficulties.
Limit recommendations are not needed if all intake of alcoholic beverages is harmful. Comparisons make sense only if lifelong abstinence is not the only healthiest option. That is, moderate drinking is either as good as never-drinking or even better. The latter seems to be the case according to available evidence, reviewed in my recent book.1
2. With some exceptions, the risk estimates are based on the assumption that responses to questions reflect the long-term average alcohol intake of the individual. Little is known how risks are influenced by drinking habits, notably rhythm and speed. However there is some scientific evidence supporting the common sense idea that steady small amounts every day is a better rhythm than alternating with abstinent, light drinking and heavy drinking days and that sipping slowly is better than gulping quickly.1
3. It is often overlooked that most people underestimate their alcohol intake. The degree of underestimation varies and seems to depend on drinking rhythm. If you drink approximately the same amount every day the amount imbibed is easy to remember. Irregular drinkers tend to forget a lot, especially small drinking occasions. Under-reporting is more likely if drinking is considered morally bad or if some disadvantage is expected due to revealing the actual intake. This is only human.
Under-reporting varies between studies but usually the actual intake is on average 2- to 3-fold compared with the reported one. This has been found when the average reported alcohol intake in representative random samples of population has been compared with the registered alcohol sales in the same population. Comparisons of questionnaire data with rigorous diary-keeping in small study groups have found slightly less underestimation. Thus, the actual risk level may be higher than the face value findings on risk suggest.1
4. The assumption that responses to questions reflect the long-term average alcohol intake of the individual does not always hold. More often than not consumption changes over life time. However, the little we know on the effect of the changes seems to support the view that moderate drinking is beneficial for health.1
Risk estimates
Considering all the sources of error it is not surprising that the intake level where the risk equals that of current or lifelong abstainers varies much between the studies. Nevertheless, several meta-analyses have combined risk estimates from various studies in the questionable hope to yield the "best" estimate of risk. Even I have taken part in this dubious enterprise.
I tried to estimate two levels, the level that corresponds to the mortality of lifelong abstainers and the one that would be optimal with respect to the life-span.1 From a figure in a recent meta-analysis I found that the risk level corresponding to the mortality of lifelong abstainers was about 33g/day. This meta-analysis combined findings from approximately one million persons. To my surprise I also found that this and other similar meta-analyses did not include two major studies comprising approximately half-a-million persons which had found much lower risk profiles. Adding findings from the latter I reached a crude estimate of 46g/day. If we dare to correct for average under-reporting,  the estimate for increased mortality, compared with that of lifelong abstaining, is somewhere between 90 and 150g/day. Sounds surprisingly high.
However, alcoholics are sometimes known to reach the level of 400g/day.  The optimal level might be around 14-22g/day if we accept the meta-analysis results and correct for under-reporting. This is not far from what some guidelines suggest. I cannot present any estimate for optimal drinking that includes the studies left out from the meta-analysis. In the very large American Cancer Society Study, there were no significant differences in all-cause mortality between lifelong abstainers and men consuming 1, 2 or 3 drinks daily or among women consuming 1 or 2 drinks daily.2 One drink in the USA may contain 12 - 14g of alcohol.1
No reliable estimates on the optimal or risky daily or risky weekly intake amounts can be presented on scientific grounds. The available evidence is simply too imprecise. So, what can we say?
In my view, it is wise to adjust your drinking so that you sleep well and feel all right in the mornings. In long-term, take care that drinking does not elevate your blood pressure level and see that your body weight remains normal. Small amounts daily or almost daily seem to be better than imbibing similar total amount in larger batches less frequently. Slow speed of drinking is also favourable. The dangerous way is to drink like alcoholics do. I'd hesitate to suggest any one-size-fit-for-all daily or weekly amounts. People who find my advice focusing on their personal health too cumbersome to follow might benefit from believing in any one of the published guidelines. There is plenty to choose from.1 And if Lady Luck smiles, the chosen guideline just might be the best one, although we probably can never know it for sure.
References:
1. Poikolainen, K. Perfect drinking and its Enemies. Minneapolis; Mill City Press, 2014. Softcover and ebook formats available from Amazon.co.uk and www.perfectdrinking.com.
2. Thun MJ, Peto R, Lopez AD, Monaco JH, Henley SJ, Heath CW, Doll R. Alcohol consumption and mortality among middle-aged and elderly U.S. citizens. N Engl J Med, 1997. 337(24): p.1705-1714.
The Author:
Kari Poikolainen is an adjunct professor at Department of Public Health, University of Helsinki, Finland.
Contact:
kari.poikolainen@mbnet.fi
www.koti.mbnet.fi/poiko1