Chemistry in the perfect coffee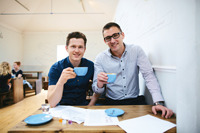 Computational chemistry and coffee; not – you might imagine – natural bedfellows. But Theoretical and Computational Chemist Christopher Hendon begs to differ…
You were at the World Barista Championships 2014 in Rimini, Italy – what were you doing there?
I have been working closely with Maxwell Colonna-Dashwood, and his wife Lesley, from Colonna and Small's Speciality Coffee Shop, developing a chemically sound understanding of how dissolved ions in water affect the resultant extracted coffee flavour. My presence in Rimini was primarily to support Maxwell in the competition, but also informally serving as a representative for the scientific community in a global industrial scene that is dominated by salesmen, propaganda and pseudoscience. Also, Italy is quite nice in June.
So is the taste of coffee really affected by water?
Most people are familiar with very small quantities of chemicals having catastrophic effects on chemical reactions. Generally speaking, minute quantities of anything in a bulk substance are termed impurities. Water is no different, in bulk water acts like H2O, but if we look closely, all water contains ions (even water itself autoionises to form H+ and OH-, this defines the pH scale). But depending on where you are from, and what's in the ground, and how much rain you've had, and how rich in CO2 the atmosphere is and many more variables, we find that there are low levels of Ca2+, Mg2+ and other less pleasant things like UO22+. These positive ions can be considered flavour claws. They grab onto molecules in the coffee bean and pull them into the water. However, if you extract for too long, they start to pull out heavier compounds, which are generally cellular breakdown products, and they taste bitter. If the extraction is too short, the coffee only has lightweight compound in the water. All this positive charge has to be countered somehow, and the most familiar counter ion is HCO3-, bicarbonate, which originally came from dissolved carbon dioxide. Bicarbonate is amphiprotic: it is acidic and basic. It exists in the highest concentration of any naturally occurring ions, and is also the most basic constituent in water besides the trace amounts of OH-. Its job is to stabilise pH, and it does so by deprotonating acids, and this is a big problem. We hold a nice balanced acidity as one of the most important flavours in coffee, and if there is too much bicarbonate we end up tasting the conjugate bases of the coffee acids and they are bitter.
We came across the importance of the cations and bicarbonate by having, by coincidence, the same coffee taste completely different in two consecutive days. One day it was highly acidic, the next it was very flat and chalky. The bean itself had not degraded, and the recipe to brew that coffee had not changed.
What type of water should we be using to brew our coffee then?
This is a really hard question to answer because there are two variables that make a really big difference. First of all, the coffee bean is roasted to the taste of the roaster themselves. The roaster tastes the coffee in the water they have in their premises. If your brewing water does not match their roasting water then you will have a variable result to what the bean was intended to be used for. The second variable is your water. I live in Bath and the tap water is very hard (300 mg/L Ca2+ and 300 mg/L HCO3-) and it can vary from up to 100 mg/L in a matter of hours. If you live in the Scottish Highlands, you might have much softer water, resulting in a lower extraction and but relatively high bicarbonate that destroys all the acids in the extraction.
You and Maxwell are going to write a book about this work – how's that going?
The book is going slowly. We are both very busy with other facets of work, and we only just find enough time to enjoy each other's company. However, the book has an interesting layout: I myself am a chemist, and I am writing the first half of the document. It will be a thorough, picture aided, introduction to the physics and chemistry of water, ionic species, acid/base chemistry, and other things that people must know before applying the tools to any problem. I am writing it as an accessible textbook; the world of coffee does not need another salesperson, rather a re-education from the ground up.
The second part of the book consists of a variety of illustrations by a colleague and illustrator, Peter Grosvenor-Attridge, which embodies how Maxwell (a representative of the barista and readership) understands these chemical concepts. This is a very powerful section for me, because it summarises many centuries of chemistry and the elegant ability to communicate the most challenging concepts through picture. The final section of the book is written by Maxwell, the two-time U.K. Barista Champion (2012, 2014) and two-time World Champion Finalist (2012-6th, 2014-5th), and his experience with water, coffee, collaboration and the scientific method. He concludes the book with three case studies which demonstrate the day-to-day impact water chemistry.
Tell us about what you do at the University of Bath.
I am fortunate to be under the supervision of Professor Aron Walsh. Aron's group specialise in modelling of materials, with a vague focus on materials for energy conversion. Currently, we have been actively studying the increasingly popular hybrid perovskites for photovoltaic application; however, my particular research involves a mixture of organic and inorganic chemistry. I was once an experimentalist, but found that the lack of controlled experiment was frustrating. Recently, I have been modelling materials that can be used as chemical sensors as they change colour in the presence of particular compounds.  But the same methods can be applied to modelling materials that are touted for gas storage, heterogeneous catalysis, and even electrical conduction.
I get very excited about solving problems, and Aron has been supportive of me following ideas that are not strictly related to my PhD project. This coffee project occupies my weekends, the PhD occupies my weekdays, and the finer things in life occupy my nights.
So what's next?
As the WBC came to a close, I was approached by two large companies that were looking to invest in future PhD students and research in the Department of Chemistry, University of Bath. I suppose this is related to the recent publication we had. I see this as a sign that the industry is ready to step forward. This is encouraging for me, because it means that people really care, and whilst I am not saving lives, this research is making people happy. Also, investment in future PhD students is an opportunity for more people to become educated, and you never know to whom you are giving the opportunity: they could be the next Linus Pauling, and I am proud to have any part of that.
So, instead of sitting on the fence, I will tell you how Maxwell brews a black coffee, and then I will tell you what I do at home.
Maxwell (and other coffee shops) have the ability to purchase high end filtration units. Max has a column Calcium-to-Magnesium exchange column that simultaneously exchanged Ca2+ for Mg2+, whilst lowering the total concentrations of Mg2+/Ca2+ and HCO3-, all in one shot. The water coming out has an ideal ratio for shop owners (and a ratio I do not want to speak about here, its part of the book!). He then brews something like 19g of coffee for 2 minutes in some form of black coffee making device.
 I, on the other hand, have accepted that, no matter how skilled I am, my incoming water is too hard to brew coffee with (mainly because of the ridiculous HCO3-). This leaves me with four choices:
i) Drink bad tasting coffee made with whatever light roasted bean I have in the cupboard.
ii) Source some deionised water, and add calculated quantities of laboratory grade MgCl2 and NaHCO3 (it is a misconception that Cl- tastes bad).
iii) Buy bottled water that is very soft, but still has some bicarbonate (e.g. < 50 mg/L) to flatten out the lactic and malic acid which is extracted on the front end of the extraction.
iv) Go to either Maxwell's, or another independent coffee shop and support their business and appreciate their water!
 I like option ii, I can't be bothered with option iii, and I actually do i, and I most enjoy option iv!