Podiatry experts hit high demand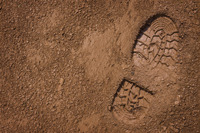 The demand for forensic podiatry expertise has increased significantly since the 1990s. 
The University of Huddersfield's Professor Wesley Vernon – one of the world's leading forensic podiatrists – is now consulting on a regular basis with investigators in Europe, Australia and the USA.
"In the mid-1990s I was getting maybe one or two cases a year. Now I am getting requests for assistance most weeks, so it has increased quite dramatically," said Professor Wesley Vernon at the University of Huddersfield.
Forensic podiatry is the study of a footprint evidence, and is mainly used to identify humans. The discipline involves the use of podiatrists' records for identification, the analysis of bare footprints at crime scenes and examination of wear features of shoes.
"There might be shoeprints at the scene of crime. The police have a suspect and can match the shoes to the crime scene, but the suspect might say 'yes I know you got that shoe from my house, but it's not mine'. DNA often fails or may not be helpful in these circumstances, but we can use the wear features of shoes to assist in the process of identification," said Professor Vernon.
Forensic podiatry also involves an area known as Forensic Gait Analysis, which now accounts for almost 90% of Professor Vernon's investigative work. It includes footage examination from security cameras to analyse the walking pattern of a suspect that might be unidentifiable otherwise. By comparing footprint evidence with camera footage experts can assist in identifying a perpetrator.