Is it a bird? Is it a plane? No - it's a snake...seriously, a flying snake.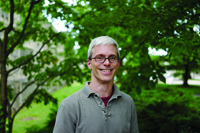 Is it a bird? Is it a plane? No - it's a snake...seriously, a flying snake. Jake Socha, professor at Virginia Tech has been investigating this unusual behaviour
So…flying snakes…who knew! Why do snakes need to fly?
Who knew indeed! Evolution has produced some pretty bizarre and unexpected things, and "snakes that fly" ranks right up there near the top. A fairly large number of people have heard of these amazing animals, thanks to the public's voracious appetite for news of the weird, and the media's willingness to feed that beast.
But flying snakes don't actually fly in the sense of being able to flit about like a bird, bat, or insect. Instead, their flight is of the gliding variety, in which they have to start from a height and then move downward through the air. For the snakes, the height comes from the trees they inhabit in Asia, and they're able to glide starting from either a jumping leap or even from a fall. We do know that they can glide quite proficiently – imagine a snake moving through the air like a flying squirrel – but the 'why' is more opaque. The simple reason for this is that there haven't been all that many observations of them gliding in the wild. I hope to track them through the forest in the coming years, and have started to discuss such plans with colleagues in Singapore.
Despite a lack of real data on their behaviour in the wild, it's still possible to speculate on why they do it. Personally, I think it's a matter of fast travel; it's quicker for the snakes to glide through the air when trying to switch up the scenery between trees, which might be useful for foraging for the lizards and other small vertebrates that they like to eat. Although the benefit of gliding has often been attributed to energy savings (in other words, suggesting that it's easier to glide than to climb and scurry), the time-saving hypothesis has recently been shown to be reasonable. This idea was tested using the colugo, which is a fantastically webbed mammal that also glides in Asia.
Another speculation that should be mentioned, because people often ask me about it: I'd bet money that the snakes do NOT use gliding to chase prey items through the air. It's a fun thought, but probably, not so plausible.
More importantly, how do they fly? How were you able to see how they do this?
When a flying snake glides, it flattens its body and undulates in the air. The body flattening is in the direction of spine to belly (imagine squishing a snake by stepping on it – which I don't recommend – or a cobra with its hood raised), and runs all the way down the body to the tail. The undulation is side-to-side, and gives the appearance of the snake swimming through the air. The way we've studied this is by putting markers on the snake's body and tracking it with multiple cameras. This type of motion-capture is becoming better known by the public, as it's prominently used for creating animations for movies and video games. For researchers of animal locomotion, it allows us to discover exactly what movements an animal makes in the air.
One of our main objectives is to figure out in what way these two features – flattening and undulating – are actually important for the snake's gliding ability. The shape that it forms by flattening seems to be quite important. From testing of models in flow tanks and from theoretical computations, we know that it's unusual, disc-like shape is surprisingly good at producing aerodynamic forces. The reason that this is a surprise is that it's type of shape is not typical for flyers, both in the natural world and in human-designed things like planes.
We know less about the effect of the undulating movement on how the snake glides. It seems that the undulation might reposition the body so that it produces an additional aerodynamic effect. It's also likely that the undulating helps the snake to keep balanced in the air, so that it doesn't tumble uncontrollably. Control in fact is the next big thing to understand.
How do you catch a flying snake?
With a lot of quickness and a whole lot more luck. They're fast little buggers, good climbers, and if you're chasing them up a tree, they have a release valve – jumping off and gliding away. I've lost the battle that way, as has at least one of my colleagues, who scampered up a tall tree in Indonesia after one, only to have it slip his grasp near the top. Flying snakes have big eyes relative to head size, and seem to have good vision too. They notice you. They'll even notice airplanes flying overhead and track them go by – I saw that happen when I was working with them outside of Chicago. As a side note, my relatives live in the Chicago area, and my uncle lent me his field behind his house to do snake experiments during graduate school. Snakes gliding through the suburbs of Chicago – another funny thought.
What got you interested in this area of research in the first place?
I've always been interested in physics and biology, and in college I discovered a mash-up of the two called 'biomechanics'. My professors Steve Vogel and Steve Wainwright introduced me to the field of comparative biomechanics, which aims to understand how organisms work from a mechanical perspective, and how mechanical function affects other aspects of the organism's biology.
I got into flying snakes in graduate school because they sounded like an intriguing biomechanical problem – how do you transform what is essentially a cylinder into something that can fly through the air? In some sense, a large part of my research career is due to Robert Dudley, who first mentioned these snakes to me at the University of Texas (and now he's at the University of California, Berkeley). Robert was advising Jim McGuire on his PhD on the flying lizard Draco, another truly awesome gliding reptile.
And what's next for this line of research? We're most focused on figuring out the snake's aerodynamics and mechanisms for control. Incorporating the snake's wiggly undulating movement into models is not a trivial task, and luckily for me I have smarter collaborators who are up for the challenge. We're also updating some of our previous experiments to figure out the body motions and positioning with a much higher level of precision, which we'll incorporate into our models.
To that end, we are hoping to do glide trials in a unique indoor arena at Virginia Tech called 'The Cube', a three-story space custom-built for motion capture. It's actually part of a new arts facility, but there's an innovative push at the university for trans-disciplinary work that melds science and art. We're planning to develop a new museum exhibit from the work as well.
What's your day job? As a professor at a research university, I give my time roughly equally to teaching and research. I'm a biologist in an engineering department—a fairly atypical arrangement—and I teach fundamental mechanics to beginning engineering students and biomechanics courses to advanced undergrads and graduate students. Aside from the flying snake work, my lab has a second line of inquiry related to the biomechanics of insects. Currently we focus on how insects move fluids in their bodies, but there are lots of questions that crop up along the way, and we like to chase new puzzles for fun. Yes, that's what we do for fun—find new problems.
Who is your scientific hero? One of my earliest inspirations was Richard Feynman. As a kid I fell in love with his cheekiness and logical view of the universe, and his ability to explain complex things in ways that seemed simple. I actually wanted to be Feynman, in the same way that kids want to be Michael Jordan. This went as far as wanting to go to college at MIT, almost solely because he went there. (I passed up the chance, perhaps for reasons that he might have appreciated, but that's another story.) In college I named my first (and last) cat 'Feynman', my only ever scientist-named pet.
I have a large number of active scientists that I find inspiring, and following their work keeps me perpetually excited. But I do have to mention one in particular, Steve Vogel. He's the clearest and most creative thinker that I know. Everyone should read his work, and that's possible because he writes astoundingly well for both the specialists and the public. In addition, Steve was the one who turned science into reality for me – he made me see that science was a possibility for regular people (like me) and not just super-geniuses like Feynman. As a freshman, Steve first introduced me to biomechanics and allowed me to interact with real scientists for the very first time. That was awesome, a key moment in my life.