Fingerprint analysis without destroying evidence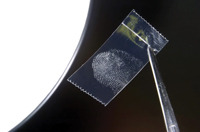 A new method can be used to analyse both fingerprints and small particles from the same surface avoiding evidence damage.   
Scientists at U.S. Army Criminal Investigation Laboratory used real time mass spectrometry to detect and analyse both fingerprints and trace amounts of explosives from the same surface without destroying either of the evidence.
"The technique provides another level of flexibility in forensic analysis," said the researchers in their paper published in Forensic Science International.
At a crime scene, current analytical techniques require a sample of any residual particles of a fingerprint by using a swab, destroying the fingerprint in the process. The new method allows analysis of particles – such as explosives – and extraction from a fingerprint without damaging any evidence.
"This new nano-extraction technique is very exciting because it allows very high precision analysis without destroying the fingerprint in any way," said Dr Chip Cody of JEOL USA, electron optical equipment and instrumentation company.
By using a combination of a technique known as nano-extraction and a bright-field microscope, the team analysed particles less than 20 microns in size and extracted single particles from a surface of interest. The quantity detection limit of particles is 300 attograms (10-18 grams).
The researchers believe that this method will allow forensic scientist's work to become more precise.
Paper: http://www.fsijournal.org/article/S0379-0738(13)00245-4/abstract