It's not all CSI at the forensics exhibition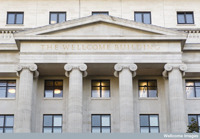 Wellcome Collection has opened an exhibition focused on the history, science and art of forensic medicine.
'Forensics: The anatomy of crime' exhibition covers from crime scene to courtroom, across centuries and continents and it allows visitors to explore the delicate processes of collecting, analysing and presenting medical evidence.
It contains original evidence, archival material, photographic documentation, film footage, forensic instruments and specimens, and artworks offering both unsettling and intimate responses to traumatic events. There are five sections involving The Crime Scene, The Morgue, The Laboratory, The Search and The Courtroom.
Curator, Lucy Shanahan said: "This exhibition gives alternative views of the forensic process from the CSI detections of popular fiction and television, whilst exploring the cultural fascination that the disciplines of forensic medicine inspire. Our journey from crime scene to courtroom takes in pioneers of scientific techniques that have revolutionised the way in which crimes are investigated, and offers visitors unexpected encounters with the changing relationship between medicine, law and society."
The exhibition is free. It is open from 26 February to 21 June 2015 at Wellcome Collection, 183 Euston Road, London NW1 2BE.
For more information: http://wellcomecollection.org/forensics?gclid=CjwKEAjw8oSoBRCss4qDrP3Y7yUSJACKumZ9JeQLm03wl3jMzsCMKGosy0a8WflRS_UK97SzFKTGCxoCEAnw_wcB