Eduardo Miranda and musical slime mould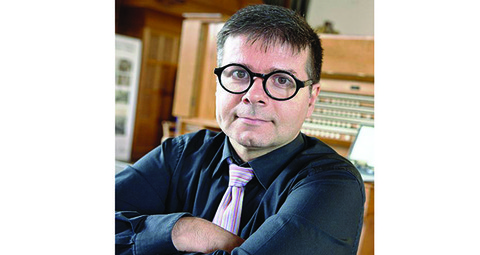 A musical 'duet' between slime mould and a scientist creates beautiful and unusual sounds. Professor Eduardo Miranda at Plymouth University, a composer working at the crossroads of music and science, tells us more...
Tell us about the process of composing with slime mould.
Actually the slime mould Physarum polycephalum is the organic component of an interactive musical biocomputer that we are developing at my research laboratory in the Interdisciplinary Centre for Computer Music Research, Plymouth University. We are looking into harnessing Physarum polycephalum to build memristors, which are bio-electronic resistance components that have memory. We are interested in developing memristors to build new types of computers. In a nutshell, we are building musical computers, which include organic components cultured on circuit boards.
The interactive biocomputer used for the composition of the piece 'Biocomputer Music' can listen to what I play on the piano and respond. I can more or less predict what the responses are going to be because we programmed the biocomputer to elaborate responses based on musical phrases that I play to it. The composition developed as I interact with the machine. It evolved as a kind of musical dialog between us.
More generally, I am interested in using computers as partners in my creative process. I have been using them for over 30 years. I even took a PhD in Artificial Intelligence to learn to program machines to interact with me musically and intelligently. I discussed my process of composing with computers in greater detail in my book Thinking Music published in 2014 by University of Plymouth Press.
You obviously like the idea of mixing music with science, what got you interested in this area?
Although music was prominent in my upbringing, when time was ripe to enter higher education I still had not made my mind as to what profession I would pursue. I even considered nuclear physics at one stage, but I ended up going to university to study informatics. Shortly after I graduated, I seized a job as systems analyst for an electronics company based in Rio de Janeiro. I soon felt uncomfortable with the road I had taken and ended up changing to an evening teaching job at a vocational school of informatics in my hometown, Porto Alegre, which enabled me to pursue other interests during the day. Eventually, I went back to university to study music.
After short period of euphoria, I became increasingly disillusioned with the music course. I found myself spending more time in the library searching for interesting reads, than attending lectures. In a humid and hot summer day, the penny dropped during one of my regular visits to the library. I came across a double issue of a French periodical called La Revue Musicale, authored by a Romanian-born composer based in Paris, whom I had scarcely heard of before: Iannis Xenakis. I could barely read French at the time, but I immediately spotted Venn diagrams, set theory, logic formalisms and probability formulas; things that looked rather familiar from my informatics degree. I could not believe my eyes. I realised that I could combine my knowledge of computing with music. Once more, I changed course of action: I went to study for a post-graduate masters degree in computer science at Universidade Federal do Rio Grande do Sul, where I was introduced to the field of Artificial Intelligence. I soon found myself immersed in the then emerging field of computer music. I moved to Europe to further my studies and the rest is history.
Computers have been programmed to compose music as early as 1950s. Developments in Computer Science have had a profound impact on music. It is rather likely that this trend will continue: new approaches to music will emerge as new kinds of computers are invented. I am delighted to be able to actively contribute to such developments. 'Biocomputer Music' is the first piece of music ever composed with an interactive musical biocomputer.
[caption id="attachment_46095" align="aligncenter" width="620"]
Eduardo Miranda is Professor of Computer Music at Plymouth University, and head of the Interdisciplinary Centre for Computer Music Research.[/caption]
Tell us about the team that you work with, ­Activating Memory and the BCMI Quartet.
After having worked as a research scientist for Sony for a number of years, I moved to Plymouth University in 2003, where I founded the Interdisciplinary Centre for Computer Music Research (ICCMR) to conduct research into new technologies to aid musical creativity and harness the role of music in social development. Currently the centre is formed of one professor (myself), three senior research fellows and 10 PhD students, in addition to three members of staff from the music department. ICCMR has formed 12 PhDs since its creation and it has raised over £3 million to fund its research. I am most fortunate to have the chance to work with a dedicated team of research assistants and PhD students, such as Edward Braund, who is developing his doctoral thesis on the topic of biocomputer music and Joel Eaton, who is developing his thesis on the topic of brain-computer music interfacing. Today ICCMR is a world-leading research centre of its kind and it is one of the main protagonists of the development of a new discipline, which I coined as Music Neurotechnology.
Research into Music Neurotechnology is truly interdisciplinary: it combines musical research with artificial intelligence, bioengineering, neurosciences and medicine. ICCMR's research outcomes have been published in learned journals of all these fields. One of ICCMR's most successful Music Neurotechnology research programmes to date is the brain-computer music interfacing (BCMI) project. This project is aimed at the development of assistive music technology to enable people with severe physical disabilities to make music controlled with brain signals. In addition to building the technology, I am particularly interested in developing approaches to compose music with it and creating new kinds of contemporary music.
We have recently developed a BCMI system, which we successfully trialled with Locked-in Syndrome patients (paralysis of the limbs) at the Royal Hospital for Neuro-disability in London. Our BCMI is based on a neurological phenomenon known as Steady State Visually Evoked Potentials, abbreviated as SSVEP. These are signals that can be detected in the EEG, which are natural responses to visual stimulation at specific frequencies. For instance, when a person looks at various patterns flashing at different frequencies on a computer screen, this shows up in his or her EEG, and a computer can be programmed to infer which pattern he or she is staring at. We created musical algorithms to translate EEG signals associated with different flashing frequencies into distinct musical processes. For example, looking at one flashing pattern would sound a certain note, looking at another would produce a certain rhythm, staring at another would change its tempo, and so on.  My composition 'Activating Memory' is an unprecedented piece for a string quartet and a BCMI quartet. Each member of the BCMI quartet is furnished with an SSVEP-based BCMI system that enables him or her to generate a musical score in real-time. Each of them generates a part for the string quartet, which is displayed on a computer screen for the respective string performer to sight-read it on the fly during the performance.
How is your music perceived by the public?
The public often claps enthusiastically, which is a good sign. And the specialist classical music critics often write negative reviews, which is another very good sign indeed! I'd be worried if all reviews were positive – it would mean music lacking creativity.
What's next?
I am currently looking into the human voice. Our voice is a fantastic musical instrument and I discovered that I can produce incredibly interesting sounds with computer models of the human vocal tract; sounds which I have never heard before. I have been synthesising voices that sound human and yet cannot be produced naturally by our vocal apparatus. This is very exciting.
Listen to one of Professor Miranda's compositions: https://soundcloud.com/ed_miranda/biocomputer-music