Close to the madding crowd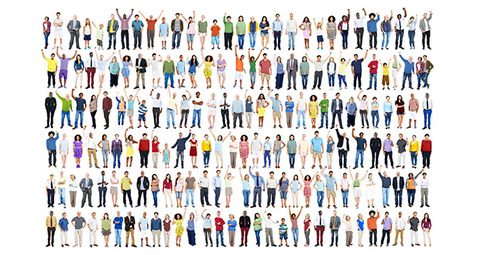 To engage the public in your work, whilst also solving that all-important research funding problem? It is possible – and harnessing the potential of 'the crowd' is the key...
To engage the public in your work, whilst also solving that all-important research funding problem? It is possible – and harnessing the potential of 'the crowd' is the key... 
Tapping the potential of the crowd for the greater good is not a new phenomenon for science – what is new however, is the scale on which it can be achieved using modern technology. The means by which a wider audience can be reached has increased exponentially providing new avenues for public engagement and opportunities for raising awareness of research and importantly, supporting the men and women behind the science.
The science of the past continues to improve and impact positively upon our lives in a myriad of ways – satellite navigation, birth control pill, the radio, penicillin, liquid crystals, IVF, stem cells, microwaves, anti-cancer drugs – and this is the very short list! None of these examples were part of a targeted effort to innovate – they all arose because talented and curious individuals asked questions about and explored the world in which they live.
In today's science arena the opportunity to think outside of the box is curtailed by a number of factors, the biggest of these being limited funding in general but also little or lack of funding for 'Blue Sky' research. The relentless need to prove one-self academically through a points system and through a high turnover of publications within a short time frame combined with endless grant writing exercises can suffocate inspiration and innovation. In the best case this leads to coasting where no "high risk" science is undertaken for fear of being castigated by academic institutions and the threat of withdrawal of academic affiliation and support.
Science deemed high risk could include an entirely novel angle taken to challenge the accepted wisdom with the potential for ground breaking discovery – after all high risk can lead to high gain. In the worst case there is an exodus of talented individuals, broken in spirit and demoralised by a system skewed to keep people in power and in place, be it in the lower order or established hierarchy. A failure to retain highly skilled researchers leads to a loss of innovation and novel thought.
There is also a knock on impact on the retention rates for women in science and a small appetite for STEM subjects at schools. Added to this, as scientists we've built a world where our science is in everyday things but we've failed to convey the importance of what we do to the people it affects. The lack of transparent and open dialogue between the public and scientists have not helped understanding of what it means to be, and what is required to be, a scientist or world leader in innovation.
Harnessing the power of the crowd through crowdsourcing and crowdfunding is one way of overcoming the challenges faced by today's scientists. Our ability to generate scientific data have paralleled the exponential advances in technology yielding vast amounts of data yet researchers often lack the manpower and funds to produce meaningful analysis.
Crowdsourcing harnesses the power of the crowd to drive concepts, collate, process and analyse large volumes of data. Citizen science projects have provided both the sheer numbers needed to process data but, more importantly, added the 'human factor' making the process more intuitive and logical. Even in our technologically advanced environment the human eye and brain are far more intuitive in certain areas than the most advanced computer programmes.
The help of the "crowd" in financing science projects is emerging as a powerful complementary method of raising funds for projects that would otherwise fall by the way side. The concept behind crowdfunding in itself is not new; the base of the Statue of Liberty was funded by public subscriptions.
Crowdfunding offers donors the ability to contribute directly to a research project of their choosing. They are free to open a direct dialogue with the scientific community for the first time, enabling questions to be asked about the science and researcher.
By having a say in who and what they support there is transparency and accountability of the donated funds.
Crowdfunding is a versatile tool for research, which can be used in a myriad of ways, from basic research to university spin-offs. The success of a campaign depends upon the ability of the researcher to engage with their audience influencing the outcome unlike a traditional grant application. It can be used to raise funds for research into conditions that do not fit themed grant calls, to obtain pilot data to enable application for larger programme grants and fellowships and perhaps to top-up existing grants and PhD studentships. It affords postdoctoral fellows a degree of support in their careers offering flexibility to obtain funding for additional research interests as well as to take funded projects with them to a new academic institution. Crowdfunding is an avenue that can be used by women scientists to garner independent funding following a career break. For early stage start–ups it is a way of obtaining funding without giving away equity (donation/rewards based crowdfunding), it is also a free market indicator of likely success in the commercial world. There are no limits except ones imagination as to how crowdfunding can help science progress.
Both crowdsourcing and crowdfunding have an important role to play in the recruitment and retention of the next generation of scientists and science-curious individuals. Lord Sainsbury's review The Race to the Top¹ suggested that scientifically trained minds help boost the economy. "In a world in which the UK's competitive advantage will depend increasingly on innovation and high-value products and services, it is essential that we raise the level of our STEM (science, technology, engineering and maths) skills. Policy making in many areas of government also requires a supply of creative young scientists and engineers." Platforms for crowd driven research offer an accessible and open forum for interacting with young people in science.
Crowdfunding and crowdsourcing use the technologies that the next generation have grown up with. They are socially acceptable methods of linking and interacting with each other. The power of this social media wave can be harnessed to inspire and invite the future scientists to engage in science. A science that is no longer within the confines of the academic elite but one which is within reach of anyone who is curious and willing to engage with the larger scientific community.
There is a very real urgency to encourage STEM subjects to be promoted at primary and secondary school. A review of the Russell Group of Universities in 2009² reported that there is an alarming and sustained decline in the number of young people adopting science as a career choice. There is a need to capture the attention and interest of the school leavers in order to provide a sustainable level of future scientists. This has long-term implications for the national economy as much as for science-based innovations.
Investment and growth in the sciences translates into social and economic benefits. A review by the Science Council³ found that the demand for science qualifications within the scientific and non-scientific field is increasing. At present 5.8 million people are employed in science roles (20% of the UK workforce) but there continues to be a shortage of skilled scientists and engineers. By 2020 approximately 820,000 science, engineering and technology (SET) professionals will be needed. Interestingly, the Society for Biology stated that "increasing women's participation in the UK labour market could be worth between £15 - £23 billion (1.3-2% of GDP), with STEM accounting for £2bn of this." The UK needs more STEM professionals and the only way to meet this demand is to increase the recruitment and retention of women within the STEM careers4.
The UK Commission for Employment and Skills (UKCES) National Strategic Skills Audit 20105 provided an insight into the growth areas of the economy, highlighting where new jobs in science are anticipated. Projections showed that if increases continue, 7.1m people will be employed in either a primary or secondary science role by 2030. The areas of the economy which are predicted to grow include the following: • Advanced manufacturing • Low carbon economy • Digital economy • Life sciences and pharmaceuticals • Professional and financial services • Engineering/construction
The innovation of crowd driven research challenges accepted norms in both the scientific and public communities, although the public appear to have a greater appetite for adoption of such innovations. Researchers are required to clearly communicate with the public to ensure funding success. The time cost of ongoing engagement with the crowd may at first appear to be a barrier however the pay-off is successful funding in a short time frame whilst raising public awareness about particular research topics.
There is an inherent responsibility in using the crowd that is critical to the longevity and credibility of crowd driven research. This responsibility lies with the researchers, the platforms they use and with the crowd. There is a duty on the part of the researcher to be open and honest and to refrain from the sensationalisation of science in order to gain funding. There is the duty of the platforms to ensure that all parties are protected this may be through vetting campaign applications or providing information on the research process to the public so that they can make informed and educated decisions.
Crowd driven research empowers every man and every woman to be involved in their future and to act as role models for the next generation. To have a say in the science of tomorrow, to shape the thinking and effect change is a powerful magnate for people, especially at a time where we may have very little say in the world around us. Crowdsourcing harnesses the power of our inquisitive minds, to question, seek and find solutions; all the pre-requisites for good science.
The authors: 
Deepika Kassen (BSc, BSc(Hons), MSc, PhD) and Gayathri Perera are scientists with extensive research experience and the cofounders of FutSci, a crowdfunding platform for Research, Innovation and Technology in Life Sciences.
References:
1. Lord Sainsbury's review "The Race to the Top" 2. http://www.russellgroup.ac.uk/uploads/STEM-briefing.pdf 3. The Current and Future UK Science Workforce, Full Report, For the Science Council, Prepared by TBR's Skills and Labour Market Team, 05 September 2011 4. Sixth report of session 2013-14, HC Science and Technology Committee, Women in Scientific careers, 15th Jan 2014 (http://www.publications.parliament.uk/pa/cm201314/cmselect/cmsctech/701/70105.htm#n12) 5. The UKCES 2010 National Strategic Skills Audit