Comet Lovejoy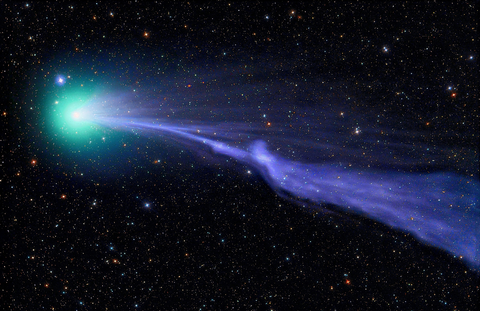 Comet Lovejoy sails through the solar system in a green haze leaving cometary dust in its wake.
C/2014 Q2 is the fifth comet to have been discovered by Australian amateur astronomer and astrophotographer, Terry Lovejoy. Towards the end of 2014 and into the beginning of 2015 the comet could be seen through binoculars or in some special cases with the naked eye soaring through Earth's skies.
The radiant blue-green contrasting against the backdrop of the night sky is due to the diatomic gas burning off it as it travels through space, and the disjointed tail illustrates the effects of a disturbance caused by solar winds. This stunning image was one of the shortlisted pictures for the Insight Astronomy Photographer of the Year competition organised by the Royal Observatory in Greenwich, London.
Credit: C/2014 Q2 Lovejoy © Michael Jaeger (Austria)