Ready for a fully energised lecture?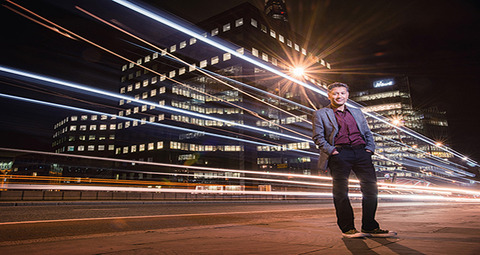 The Christmas Lectures have been a key part of the Royal Institution's science outreach since 1825. Following in the footsteps of scientists such as Faraday, Sagan and Dawkins, Professor Saiful Islam is fully charging his batteries for this year's lecture...
The Christmas Lectures have been a key part of the Royal Institution's science outreach since 1825. Following in the footsteps of scientists such as Faraday, Sagan and Dawkins, Professor Saiful Islam is fully charging his batteries for this year's lecture...
Congratulations on being this year's Christmas Lecturer. Can you tell us a bit about yourself and what your first reaction was when asked to present the Lectures?
I am Professor of Materials Chemistry at the University of Bath. I studied at University College London followed by a research job at Eastman Kodak Labs in New York and a lectureship at the University of Surrey. My research involves using powerful computer modelling techniques to investigate energy-related materials for lithium batteries and solar cells.  So I'm a chemist who doesn't wear a white lab coat! Our aim is to understand and design new materials for next-generation clean energy devices.
I feel extremely privileged to take up the mantle of this year's Christmas Lecturer. Believe it or not my initial reaction was one of reluctance, not only to take time out from my active research, but to follow distinguished scientists who have previously delivered the Lectures. It's a huge honour – but partly terrifying – to add myself to an alumni list which includes Michael Faraday, David Attenborough, Richard Dawkins and Carl Sagan, among others. A colleague pointed out that turning it down would be a decision I would regret for the rest of my life.
I have distinct memories of watching some of those past Christmas Lectures, particularly Carl Sagan's 'The Planets' and Richard Dawkins's 'Growing up in the Universe'. It's amazing to think I'll be delivering the Lectures in the 80th year since their first broadcast by the BBC in 1936, making it the oldest science in the world.
You have a long personal connection with the Ri and the Christmas Lectures. Can you tell us more about that?
I grew up in Crouch End in London, within walking distance of Alexandra Palace where the BBC broadcast the Christmas Lectures from for the very first time on 22 December 1936. I could see 'Ally Pally' from my bedroom window! I remember going to the Royal Institution when I was about 15 for a fantastic schools lecture on light and colours by another Christmas Lecturer George Porter. That was the first time I realised that chemistry could be done as a full-time job.
Later still in the mid-1990s, my PhD supervisor, Richard Catlow FRS who was the Director of the Ri's Davy Faraday Research Laboratory, encouraged me to present my own schools lecture in the Ri's theatre. And now here I am, back at the Ri in 2016, as this year's Christmas Lecturer!
The lecture is titled Supercharged: Fuelling the Future, are you able to give us any hints as to what it will contain?
The story of this year's Christmas Lectures will focus on energy. It's an ambitious topic to tackle, when you consider the many ways in which it affects our everyday lives.
The three individual Lectures will take us on a journey through the powerful transformations which take place whenever we use energy, explaining how energy cannot be created or destroyed and only ever changes from one form to another. We'll be taking our first cue from Michael Faraday and returning the Royal Institution's famous theatre to candlelight – the candle being a great example of chemical energy leading to light and heat energy.
We'll also be looking to the future, and will explore how materials are central to solving the world's ever-growing demand for energy. With fossil fuels unsustainable, the potential of solar and renewable energy is being put to the test. One of the major questions I'll be addressing in the Lectures is how the role of batteries and energy storage will develop in our energy solutions. Could phones last for a year, and cars run for hundreds of miles, on a single charge?
In this special 80th anniversary year we'll be taking the opportunity to celebrate the amazing history of the Christmas Lectures by recreating some memorable past demos, with a little help from some very special guests.
What is the most important aspect of your talk you would like people to take with them after they see your lecture?
On a general level, I would like children to realise that the pursuit of science is the rational and most exciting way to unravel the mysteries of the world.
I think that viewers of all ages will come away with a deeper understanding of energy and a new-found fascination in it. I'm hopeful that the Lectures will help to create a further buzz about chemistry as well as the global energy challenge. Materials chemistry plays such crucial role in developing new, clean energy technologies and that's something which might be new to many viewers.
My own experience watching the Christmas Lectures as a child gave me a strong sense of the importance of scientific knowledge in understanding the world, and I would love for the audience to come to a similar realisation over the course of my Lectures.
Your research has seen you work on oxide superconductors, new materials for batteries and solar cells. What is one piece of research that stands out to you the most and why?
Picking out only one piece of research is very difficult. Charging a lithium battery for a mobile phone or electric car relies on the movement of tiny lithium ions through crystalline materials. Using powerful computer modelling techniques we have been able to provide new insights into how fast lithium ions move and their pathways in new iron-phosphate and iron-silicate materials on the atomic scale. Such important insights will help to provide routes to better batteries for next generation electric cars.
You have worked hard to promote diversity in science. Could you tell us why it's something that's important to you?
I'm a firm believer that innovation and creativity in science are strengthened by ensuring diversity across its activities. Increasing participation from all people regardless of gender, race and background ensures that talent is drawn from the largest pool possible. Sadly, some groups are currently seriously underrepresented in science. I was proud to help raise awareness of this issue as a member of the Royal Society's Diversity Committee over the last three years.
I don't know if I'm a role model but I'd be delighted if my contribution as this year's Christmas Lecturer did encourage younger generations to stay in science. When giving talks in schools I always mention my own background and try to emphasise that they should always follow their passion, but also put in the hard work.
Will your Christmas be particularly science themed?
Probably no more science-themed than most people. My Christmas will involve being with family and friends, giving out cards and presents, and eating too much food and chocolate. And of course watching the Christmas Lectures on TV, but this year with a tinge of nervous energy about how they'll be received.
Professor Saiful Islam is Professor of Materials Chemistry at the University of Bath. His research interests include computer modelling of new materials for lithium and sodium batteries, solid oxide fuel cells and perovskite solar cells