Trappist travel poster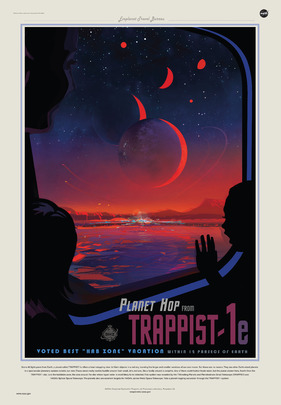 A travel poster by NASA imagining a trip to the new exoplanets announced in late February, Trappist 1b-h.
A NASA telescope has revealed a system of seven Earth-sized planets orbiting a small star. Three of these planets are located in the habitable zone – where liquid water is most likely to be found – although all seven could possess water.
The exoplanet system is called TRAPPIST-1, located about 40 light years (235 trillion miles) from Earth, in the constellation Aquarius. The research was published in Nature, and this image is a promotional poster produced by NASA to go with the announcement of the discovery.
Credit: NASA/JPL-Caltech