Industrial partnerships vital to delivery of Life Science Strategy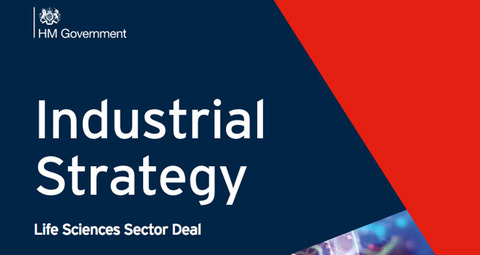 The government expands on Life Sciences Industrial Strategy.
The government has announced the first phase of deals in connection with its Life Sciences Industrial Strategy.
The Life Science Sector Deal is intended as the first in a series to support its ambition to make the UK a global hub for biomedical and clinical research and medical innovation. The collaborations with the life sciences sector include more than 25 organisations – businesses large and small across biopharma, medtech and diagnostics, charities and academia.
UK Bio Industry Association CEO, Steve Bates, said: "It is fantastic that the life sciences are the first sector to have a deal published and this document showcases a range of investment in to the industry and partnerships working across this exciting and entrepreneurial industry."
Some areas have greater focus in this initial deal, but it does promise a stream of new commercial investments. One such area is the adoption of machine learning and artificial intelligence (AI) technologies within digital pathology services across the NHS. Two major industrial partners in this space will be Roche Diagnostics and Philips.
Roche have suggested they are planning the trial of a new approach to cancer testing that includes whole slide scanners, image management software and image analysis algorithms. Geoff Twist, Managing Director of Roche Diagnostics UK & Ireland, said: "Today's announcement from the government could help transform tissue pathology services and pave the way for the UK to create a new global industry with Artificial Intelligence and Digital Pathology at its forefront. We are committed to helping the government moving forward."
Philips will also look to develop digital pathology programme using artificial intelligence, and explore a similar programme within radiology. Currently involved in a pilot exploring the use of networked digital pathology laboratories in Scotland, the company suggest this could become a national model.
Philips Electronics UK&Ireland CEO Neil Mesher said: "We're excited to be contributing to the possible development of a new global industry that utilises AI and machine learning. Health knows no bounds and a campaign like this, which explores possibilities of accelerating diagnosis and improving accuracy, could have profound implications in disease areas such as cancer where precision diagnosis can be critical to patient survival."
It was back in August 2017 that the Industrial Strategy White Paper focussed on how the government will invest to bolster the UK economy, a big part of which was an R&D investment of £2.3bn by 2022 ­– raising total public investment in R&D from around £9.5bn in 2016/17 to £12.5bn. The new Sector Deal now begins to establish the details of its commitment to work with industry to boost spending on R&D to 2.4 per cent of GDP by 2027.
https://www.gov.uk/government/uploads/system/uploads/attachment_data/file/664958/life-sciences-sector-deal-web-ready.pdf