Two tribes go to pour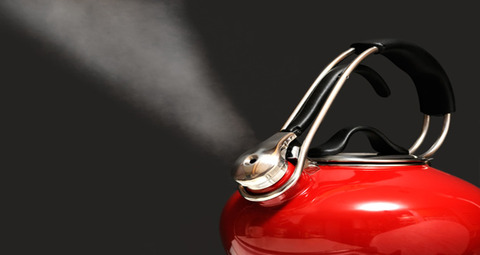 Strange, is it not? The things which can inflame the imagination. For Newton, a falling apple was all it took. A particularly contemplative bath did it for Archimedes. For the Science Lite desk… it was a broken kettle. 
A few weeks ago we found ourselves expectantly huddled around the 'overworked and underpaid' kettle in the kitchen here at Lab News towers. It is a stance we adopt at least 4 times a day – so reliant are we on the mental whizz-bang that only caffeine can provide.
Now, the kitchen here has – to put it mildly – seen better days. There are stains on the floor so old only radiocarbon analysis is up to the task of dating them. And this delightful decay extends to the kettle – now boasting a lid which has developed a steadfast refusal to remain closed.
And, as we impatiently waited for our water to boil, a debate emerged. "Frustrating," said some. "This will mean the kettle will take longer to boil…what a waste of our time." Then, as boredom forced thoughts past the dense mists of their synaptic lethargy, others piped up. "Hang on…surely the removal of a closed lid will speed up the process of boiling water? Right? I mean it'll remove pressure and therefore the water can boil at a slightly lower temperature."
As the water began to heat, so did the debate – and with sharp caffeine cravings fraying the edges of patience, two factions emerged. Those who thought lid removal would slow the boiling process due to a loss of heat, and those who thought the removal of pressure build-up due to the lack of a lid would speed up the process. It was our very own West Side Story – only with fewer show tunes.
So – which is right? Well there was only one thing for it. Stop watches were gathered, water was painstakingly measured out and brows became increasingly furrowed. The methodical march of experimentation had begun. After several runs with the kettle in both 'lid open', and 'lid forced shut with a delicately balanced tin opener' modes (…you can see how seriously we are taking this. 'Far too seriously' we hear you cry) the results were in. And they were unequivocal.
In lid shut mode, the kettle took an average of 3 minutes 45 seconds to boil, with the lid-open a pedestrian 4 minutes 28 seconds passed before the water finally relented and boiled. That's a whopping 43 seconds we could have shaved from our interminable kettle-huddle had we forced the lid closed.With heads hung low, the pro-lidless began to disperse; "…buts" and "whys" muttered low on their breath.
And so it is that in the great enthalpic battle raging within a kettle, it is the heat conservation of a closed lid that will win out against the pressure reduction of an open one. As we figure it, a closed lid will reduce heat loss through three means: the latent heat loss of evaporative cooling, air convection of heat away from the surface of the water, and radiation from the surface. Against that, the slight pressure reduction of an open lid cannot compete.
All very well…but isn't this a tad, well…mundane? In isolation…perhaps, but is this not the perfect example of the universal law of conservation of energy? The energetic laws which play out in your kettle each morning as you brew your cuppa are the same as those which are at work as a volcano erupts, or planets move gracefully around a distant star.
Hidden in the unrelenting folds of mundanity there are specks of profundity – gleaming and fizzing – set to catch the eye of the inquisitive, just as the glint of a distant speck of gold might catch the eye of a prospector.
And with that, you have guessed it; we are off to put the kettle on.