Taking on the quick-change artist
Many experts think we are overdue for a deadly flu pandemic – now a new collaboration is taking on the virus. Ted Schenkelberg and Russell Basser ask if we really can achieve a universal flu vaccine…  
This year sees the 100th anniversary of what some regard as one of the deadliest pandemics in human history. The Spanish Flu epidemic of 1918-19 is estimated to have caused the deaths of 50 to 100 million people globally - three to five percent of the world's population.[1]
It disproportionately killed the young and fit. Many of the deaths were due to pneumonia ­– treatable now with antibiotics – but in 2013 a modelling group in the US estimated that a similarly pathogenic flu virus would still kill between 190,000 and 340,000 Americans today.[2]
Pandemics remain one of humanity's greatest global health and security risks. They are unpredictable, and many think we are overdue for another. 'Ordinary' seasonal flu can still be fatal, and is estimated to kill between 250,000-500,000 people every year[3], mainly in lower-income countries. So what can we do to improve our defences against this potentially deadly disease?
Best guess
Currently, our best protection is through the annual flu vaccination. We need a different vaccine every year as the influenza virus generates mutations in its surface antigens
[4]
– the targets of the vaccines we currently use – at a rate much higher than most other viruses. Using its worldwide network of laboratories, the World Health Organization (WHO) makes its best estimate of the virus strains for use in the seasonal vaccine six months before the flu season starts in each hemisphere to allow time for vaccine production and distribution.
[5]
These strains are then shared by WHO with manufacturers around the world to make sure the same strains of flu are used in each season's vaccines across the globe.
However, in this six-month period, the flu viruses used in the vaccine often continue to mutate in the outside world, leading to a mismatch between the viruses in the vaccine and the viruses circulating in the community.4 This means that in some flu seasons we get suboptimal effectiveness – though studies show that even a partially effective vaccine is much better than none, as it helps confer 'herd immunity' (when the vaccination of a significant portion of a population provides a measure of protection for individuals who have not been vaccinated).[6]
A true universal flu jab that could work for many years and provide protection across all populations at all ages and against all strains of flu – including pandemic strains – is highly desirable. But the scientific challenges are significant, and it is likely that it will be many years before such a vaccine becomes available for use in humans.
Universal problem
As part of this effort, Seqirus, a global innovator in flu vaccines with a 100-year heritage in the field, is joining forces with the non-profit Human Vaccines Project. The Project is an initiative to better understand the underlying mechanisms of how the human immune system fights disease to help design better vaccines, diagnostics and therapies. The Project's Universal Influenza Vaccine Initiative (UIVI) is aiming to get key research and industry stakeholders involved in influenza to come together to try and make a universal flu vaccine a reality.
Pandemics remain one of humanity's greatest global health and security risks. They are unpredictable, and many think we are overdue for another.
Seqirus joins a network of industrial and non-profit product developers working pre-competitively to address core issues of human immunity which include Aeras, GSK, Pfizer, MedImmune, Janssen, Moderna, and Boehringer Ingelheim.
UIVI is focusing on the primary barrier to universal influenza vaccines: our lack of understanding of effective human immunity to influenza. By developing a blueprint of the mechanisms underlying immunological protection from influenza throughout the human lifespan, the UIVI seeks to support researchers across the globe in developing better and more potent vaccines against influenza, and address the looming threat of a pandemic. To do this, Seqirus and a wide range of other corporate, government and academic partners will collaborate with UIVI in undertaking some of the most comprehensive clinical analyses of immune responses to flu ever conducted.
This clinical work will be coupled with extensive bioinformatic and machine learning analysis to uncover mechanisms of immunological protection. As well as looking at conventional immune system biomarkers, these analyses will look at a very broad range of potential immune response influencers, including, for example, the microbiome. From these, we hope to understand how to generate long-term immunity across all circulating influenza strains in different populations across the globe.
Immune imprinting
Critical to this work is addressing the issue of 'immune imprinting' which occurs from our very first exposure to the influenza virus early on in life. Imprinting is thought to set the path for future immune responses to both influenza infection and vaccines and is increasingly recognised for its dampening impact on vaccine effectiveness.
[7]
By undertaking cohort studies across different generations exposed to different virus strains, and analysing what is going on immunologically in minute detail, it may be possible to develop a vaccine given at birth which would lessen or avoid 'imprinting' and broaden immune response in later life, thus increasing levels of protection.
Over the long term, the aim of the UIVI collaboration will be to accelerate the development of universal vaccines with high efficacy and durable responses to all subtypes of circulating and emerging influenza A and B viruses, for use in all ages and populations. In the interim, manufacturers are using adjuvants to boost the immune response to existing flu vaccines, and developing innovative manufacturing techniques to ensure a better match between strains in the vaccine and in the community.
This is a very tough scientific challenge. But by pooling resources, UIVI, Seqirus and our corporate partners believe the challenges can be overcome, and universal protection of humankind from influenza can become a reality.
References
[1] Taubenberger JK, Morens DM (January 2006). "1918 Influenza: the mother of all pandemics". Emerging Infectious Diseases. Centers for Disease Control and Prevention. 12 (1): 15–22. doi:10.3201/eid1201.050979
[2] Madhav, Nita (21 February 2013). Markey, Molly J., ed. "Modeling a Modern-Day Spanish Flu Pandemic". AIR's Research and Modeling Group
[3] http://www.who.int/mediacentre/factsheets/2003/fs211/en/
[4] https://www.cdc.gov/flu/about/viruses/change.htm
[5] https://www.cdc.gov/flu/about/season/vaccine-selection.htm
[6] https://www.vaccinestoday.eu/stories/what-is-herd-immunity/
[7] Schmidt et al. Immunogenic stimulus for germline precursors of antibodies that engage the influenza hemagglutinin receptor-binding site. Cell Reports, December 2015 DOI: 10.1016/j.celrep.2015.11.063
Authors: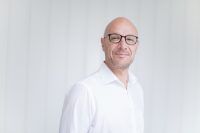 Russell Basser MD is Senior Vice President for Research and Development, Seqirus
Ted Schenkelberg, MBA, MPH is Chief Operating Officer at the Human Vaccines Project