Titanic lakes filled with methane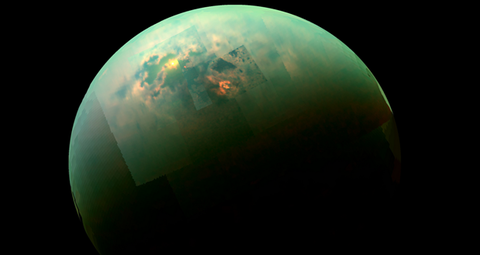 Data from NASA's Cassini spacecraft has revealed that liquid lakes on Saturn's largest moon are more than 300 feet deep and filled with methane.
Radar measurements provide new details of the lakes, which NASA said are similar to mesas or buttes, sticking hundreds of feet above the surrounding landscape.
Cassini radar scientist Marco Mastrogiuseppe said: "Every time we make discoveries on Titan, Titan becomes more and more mysterious. But these new measurements help give an answer to a few key questions. We can actually now better understand the hydrology of Titan."
The new measurements suggest the lakes formed when the surrounding bedrock of ice and solid organics chemically dissolved and collapsed. Similar lakes on Earth form when water dissolves limestone bedrock.
Interestingly, the hydrology on one side of Titan's northern hemisphere is completely different than on the other side; on the eastern side there are seas with low elevation, canyons and islands, and on the western side, small lakes.
The radar measurements also show Titan's hydrologic cycle is similar to that of our home planet, in that methane and ethane evaporate from seas, forming clouds and rain – just like water on Earth. The fact that Titan's average surface temperature is around -179 °C means the methane and ethane behave like liquid.
Titan is the only planetary body in the solar system other than Earth to have stable liquid on its surface.
Cassini had previously measured Ontario Lacus, the only major lake in Titan's southern hemisphere, which contains roughly an equal mix of methane and ethane.
NASA's Cassini space probe was active in space for nearly 20 years. Its mission ended in September 2017 when, shortly before running out of fuel, it was flown into the planet's upper atmosphere. This new data was gathered on Cassini's final close flyby of Titan, on April 22, 2017.
The findings have been published in Nature Astronomy.