Sand 'bubbles' flow like liquid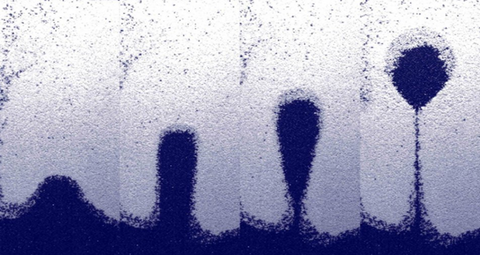 Gravitational instabilities in granular particles of different densities could help us understand how structures such as mudslides and volcanoes formed.
A Columbia University team layered two types of sand horizontally, with lighter granules at the bottom and heavier granules at the top. When subject to vertical vibration and upward gas flow, the lighter sand formed "fingers" before rising further and breaking off into bubbles.
Chris Boyce, Assistant Professor of Engineering at Columbia University, said: "We think our discovery is transformational. We have found a granular analog of one of the last major fluid mechanical instabilities."
The behaviour of the sand was much like the Rayleigh-Taylor instability, produced when two fluids of different densities don't mix – such as oil or wax with water in lava lamps. Until now, this behaviour hadn't been observed in two dry granular materials.
"While analogs of the other major instabilities have been discovered in granular flows in recent decades, the R-T instability has eluded direct comparison," Professor Boyce said.
As well as aiding understanding of mudslides and volcanoes formations, the discovery could help develop new industrial processes in pharmaceutical production and carbon capture.
The study has been published in the Proceedings of the National Academy of Sciences.