Radioactive carbon in deep ocean crustaceans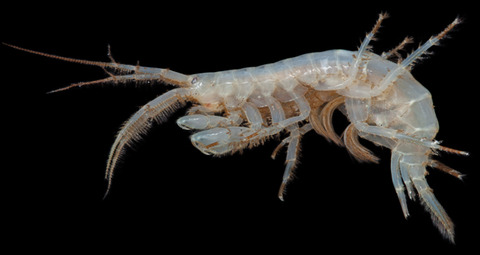 Radioactive carbon released into the atmosphere from nuclear bomb tests more than 50 years ago has entered the food chain at the deepest parts of the ocean.
Chinese Academy of Sciences researchers found radioactive isotope carbon-14 in the gut and muscle tissue of deep trench amphipods, small crustaceans that feed on dead organisms and marine detritus.
The amphipods appear to be feeding on bomb carbon that entered the atmosphere during thermonuclear weapons tests in the 1950s and 1960s, when neutrons released from the bombs reacted with nitrogen.
Geochemist and lead author of the study Ning Wang said: "Although the oceanic circulation takes hundreds of years to bring water containing bomb carbon to the deepest trench, the food chain achieves this much faster."
Wang and her colleagues analysed amphipods collected in 2017 from the Mariana Trench, Mussau, and New Britain Trenches in the West Pacific Ocean as deep as seven miles.
Levels of carbon-14 in amphipod muscle tissue were greater than in organic matter in deep ocean water, while bomb carbon levels in their gut matched estimated levels at the surface of the Pacific Ocean.
Co-author of the study Weidong Sun said: "There's a very strong interaction between the surface and the bottom, in terms of biologic systems, and human activities can affect the biosystems even down to 11,000 meters, so we need to be careful about our future behaviours."
Fortunately, the carbon does not appear to have had adverse effects on the amphipods -- those living in the deep trenches grow larger and live longer than their counterparts in shallower waters. Shallow water amphipods typically live for less than two years and grow to an average length of 0.8 inches, the researchers found. Deep trench amphipods, meanwhile, were more than 10 years old and had grown to 3.6 inches, although this is thought to be due to slow metabolisms.
Sun told Laboratory News: "To us, the bigger body size and longer life of amphipods has nothing to do with the levels of bomb carbon. It is a tracer that shows human activities can reach the deepest parts of the ocean."
The research team published their findings in Geophysical Research Letters.