The final frontier of environmental science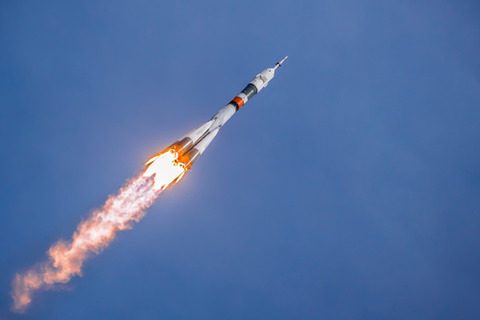 As environmental concerns reach fever pitch – aviation is increasingly in the spotlight. But so far those concerns haven't extended to space flight… but should they? They answer turns out to be more nuanced than you might think says James PG-Ashworth…
Wherever you look, it's hard to escape the fact that flying is bad for the environment.
Whether it's the high-profile targeting of London City Airport by Extinction Rebellion earlier this year, or Air New Zealand attempting to reduce its impact via edible cups, it's more than apparent that the public's consciousness is firmly fixed on this mode of travel. But for all this attention, there doesn't seem to be that much of a focus on another, quite polluting form of transport – that which goes into space.
As with aeroplanes, much of the emissions of space transport come from their fuel. Rockets generally use a refined form of kerosene known as RP-1, especially in their earlier stages. For example, SpaceX's Falcon 9 rocket uses just over 146,000 litres in its first stage, and overall, this means it produces nearly 425 tonnes of carbon dioxide for every rocket that launches. In comparison, a return flight from London to Sydney makes around 5.1 tonnes of carbon per passenger, so one rocket launch is the equivalent of sending 83 people on holiday.
If we look at the most powerful of all rockets, the Saturn V, this produces just under 2000 tonnes per launch, though it could send man to the moon and back. While these figures are certainly a cause for concern, it's worth remembering that the sheer volume of flights taken around the world vastly outweigh the emissions of rocket launches by a significant amount, at least in terms of carbon dioxide. The Saturn V also made use of liquid hydrogen, which, when burnt, produces water vapour. This is a greenhouse gas, but its proportions in the atmosphere are regulated climatically. However, as the planet warms, these proportions will grow. Research funded by NASA predicts that for every 1.8°C the Earth warms, each square foot of the atmosphere will absorb 2 watts more than at present as water vapour levels rise, leading to enough extra power being absorbed to charge over 250 million mobile phones.
On the other side of, what was, the space race, the Soyuz rocket has its own issues. While the mass death of saiga deer in 2015 was eventually traced to a bacterium, rocket fuel, from Kazakhstan's Baikonur cosmodrome, was raised as a potential cause. And with good reason. Located in the south of the country, rockets launched from here fly across the steppes of Asia, dropping debris and pollution onto the country below. This can inflict severe damage on the environment due to the use of rocket fuels such as heptyl, which has potent carcinogenic properties and is accompanied by a large amount of anecdotal evidence of damage to human health in surrounding areas. While it is able to be broken down aerobically within weeks, its high persistence in soils and migratory ability still pose a threat, with a study in 2008 by Carlsen et al.1 noting that heptyl was still present in areas where contaminated material had fallen from rockets more than two decades before. With Russia's attempts to reduce its dependence on Baikonur, contamination of this area should decrease with time, but this may simply move the problem, quite literally, out to sea.
Not all bad?
With the enormous danger associated with these fuels, it's hardly a surprise that large areas of space-related land are sealed off from the general public. In effect, this creates protected areas, where species are isolated from a lot of human activity. Merritt Island National Wildlife Refuge, for example, lies as a buffer zone near the Kennedy Space Centre, and a significant proportion of its waters, around 22%, are closed to fishing as part of its activities. Back in 1999, a study by Darlene Johnson and colleagues2 demonstrated that these areas showed 2.6 times greater abundance in game fish than in non-protected areas, rising to 12.8 for one species, the black drum. There was also significantly higher species diversity, and maximum size, of fish within these areas than outside them. By marking individuals, the study also demonstrated evidence of spillover, where fish were crossing over into the fished areas, and so helping to restock the waters beyond.
Beyond these directly protected areas, the impact of space transport has also enabled us to protect other areas of the world. The ability to put artificial satellites into orbit has revolutionised the study of the Earth and its environment, something recognised by recent budget increases for ESA's Earth observation programme. This will allow the satellites of the Copernicus constellation to receive increased resolution, and instrumentation, in order to better survey our planet, and prepare for Europe's commitments to the Paris Agreement.
This decision demonstrates the importance of space transport to the future of environmental science as a whole – some scales are simply too large to be studied from the ground, be it creeping desertification globally or deforestation in the Amazon. The latter is an area where satellites can prove to be particularly helpful, with Global Forest Watch making use of Landsat data to draw attention to changes in forest cover at scales of 30m, allowing better enforcement against illegal logging in hard to reach areas.
With satellites pointing the way, we are offered the opportunity of directing our resources efficiently and precisely in order to bring about the changes necessary to protect the planet.
Space transport then, could well be a necessary evil when it comes to the health of the Earth.
The information we can glean for its spoils is proving vital for understanding the health of our environment. While its impacts are gradually becoming part of discussions over the environment, as demonstrated by recent protests over the Newquay spaceport, it remains the final frontier for climate awareness.
References
1. Environ Health Insights. 2008; 1: 11–20. Published online 2008 Jul 18 doi: 10.4137/EHI.S889
2. North American Journal of Fisheries Management Volume 19, 1999 - Issue 2
Author:
James Ashworth is a freelance writer and journalist