Microscopic 'mold pigs' may represent new phylum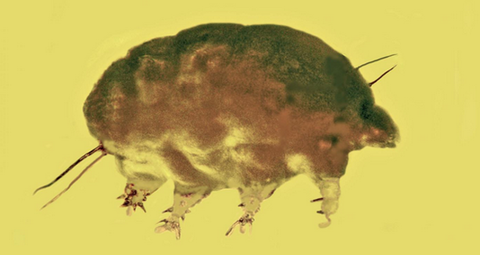 Fossils preserved in amber reveal a new family, genus, species and possibly phylum of micro invertebrate.
Sialomorpha dominicana, dubbed mold pigs for their supposed swine-like appearance, were found in amber from the Dominican Republic by paleobiologist George Poinar Jr.
"Mold pigs can't be placed in any group of currently existing invertebrates – they share characteristics with both tardigrades, sometimes referred to as water bears or moss pigs, and mites but clearly belong to neither group," said Professor Poinar, who published his findings in Invertebrate Biology.
S. dominicana date from the mid-Tertiary period and were around 100 micrometres long – smaller than the 500 micrometre-long tardigrade. They had a flexible head and four pairs of legs and grew by moulting their exosketelon and feeding mostly on fungi.
Mold pigs – which had no claws at the end of their legs, unlike tardigrades and mites – may even represent a new phylum.
"The structure and developmental patterns of these fossils illustrate a time period when certain traits appeared among these types of animals," Professor Poinar said. "But we don't know when the Sialomorpha lineage originated, how long it lasted, or whether there are descendants living today."
Tardigrades, part of the Ecdysozoa superphylum, are able to survive extreme temperatures, pressures and radiation. In April, an Israeli space probe carrying the microscopic creatures crashed landed on the moon – raising the possibility that there is indeed life on the lunar surface.