NASA data suggests early Jupiter smash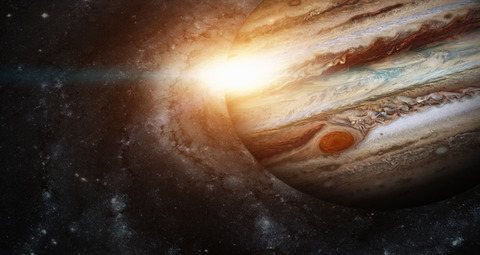 Gravitational readings from NASA's Juno spacecraft suggest Jupiter collided with a still-forming planet in our early solar system.
Jupiter's core may still be reeling from the collision with the protoplanet – about 10 times the size of Earth – around 4.5 billion years ago.
Andrea Isella, Rice University astronomer, said: "The impactor would be like a bullet that goes through the atmosphere and hits the core head-on.
"Before impact, you have a very dense core, surrounded by atmosphere. The head-on impact spreads things out, diluting the core."
Leading theories say Jupiter began as a dense, rocky or icy planet that later gathered gas and dust. Previous research suggests Jupiter's current structure, meanwhile, is formed of a diluted core and heavy elements distributed within a region extending to nearly half of Jupiter's radius.
According to researchers, the only scenario that supports Juno's measurements is a head-on impact, causing its core to mix its contents with less dense layers above.
Calculations also suggest that it will take many more billions of years for the heavy material to settle down back into a dense core.
The Juno spacecraft, which launched in 2011, was designed to help scientists better understand Jupiter's origin and evolution. Juno has provided a determination of Jupiter's gravitational field, which has been used to obtain information about the planet's composition and internal structure.
Astronomers from Rice University and China's Sun Yat-sen University studied the readings and published their findings in Nature.