NASA to send rotorcraft to Titan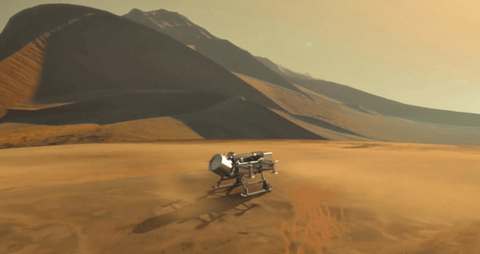 NASA is planning to send a drone-like lander to the surface of Titan, Saturn's largest moon.
Dragonfly, an eight-rotor aircraft, will take advantage of Titan's dense atmosphere and low gravity to investigate the habitability of its environment.
It will also study the progression of prebiotic chemistry and look for prebiotic chemical processes that are common to both Titan and Earth, which both have similar nitrogen-dense atmospheres.
Thomas Zurbuchen, NASA's associate administrator for Science, said: "Dragonfly will visit a world filled with a wide variety of organic compounds, which are the building blocks of life and could teach us about the origin of life itself."
NASA Administrator Jim Bridenstine said: "Visiting this mysterious ocean world could revolutionize what we know about life in the universe. This cutting-edge mission would have been unthinkable even just a few years ago, but we're now ready for Dragonfly's amazing flight."
Dragonfly will first land at the equatorial "Shangri-La" dune fields, which offer a diverse sampling location, and end at the Selk impact crater, where there is evidence of past liquid water.
The drone-like aircraft will launch in 2026 with an expected landing in 2034.