Never break the chain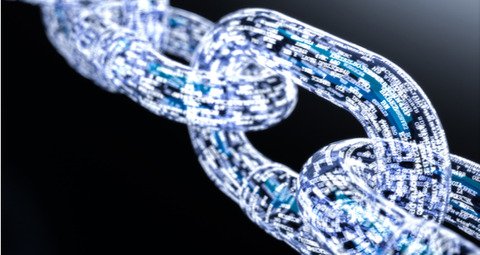 It really is a question of when, not if. Change in academic publishing is coming – as someone once said – like a heart attack.
It really is a question of when, not if. Change in academic publishing is coming – as someone once said – like a heart attack.
The open-access model continues to gain momentum – and while many agree this can only be a good thing, there are some niggles which refuse to go away. Niggles like money. Who will pay for all that lovely peer-review administration? Largely, it seems, it will be the authors – the dark-side of open access is the pay-to-publish paradigm.
But do we need to publish science in this way at all? Pre-print servers (arxiv, biorxiv), data only journals (gigascience, geosciencedata) – many new models have sprung up. Even piracy (SciHub, LibGen) is gaining an air of legitimacy against the backdrop of open scientific interest. And now there is another in this increasingly crowded mix, and it all hinges on blockchains.
If you are yet to be acquainted with the techno-hipsters' wet dream that is blockchain technology, it is the driver behind the digital currency Bitcoin. In essence it is a database which has the capacity to make data immutable, transparent, externally provable and decentralised. That basically means once written into a blockchain data structure, some clever cryptography means nothing can be altered without a record of what has changed and by whom. It'll then be possible to treat any end product with – at the very least – mild suspicion.
So what does all this have to do with publishing? Well, Dr Sönke Bartling Founder of German think-tank Blockchain for Science, essentially thinks the whole process could be made totally open and decentralised – meaning no requirement for a central repository of data or analysis. This is of course a step change from the current do science – publish science models.
And it's not just publishing. Dr Bartling essentially thinks there is nothing about the scientific process that can't be made better with blockchain. Data acquisition, for example, will be a very different beast in the blockchain world. Data selectivity will be a thing of the past – outliers won't be so easily culled – and if they are, there will be an immutable record of the culling. Importantly, Dr Bartling thinks this will offer a fix for the reproducibility crisis.
Here I begin to think he claims more for blockchain that it can possibly bear. Currently scientists are trusted to provide a representative data in their final publication – trust is an unnecessary foible in the cold, hard world of blockchain. All well and good, but we know that selective reporting of data really isn't a big factor in the reproducibility crisis. We recently covered a study from the US by the Global Biological Standards Institute which suggests it only plays a very minor role. Much more important are factors like reagent variability, and interpretation of results.
An over-engineered solution for a non-problem then? Maybe, but I can't see a future without blockchain. Economics, democracy and now science – blockchain databases will change the way we conduct them all.
Phil Prime, Editor